IKF, Trevino, lemahieu… not the most promising three but I did eat a caramel sundae so you never know!
Fucking judge again.
That's right. Lower case j fucker
Caramel FUCKING Sundae!!!
There is magic in that Sunday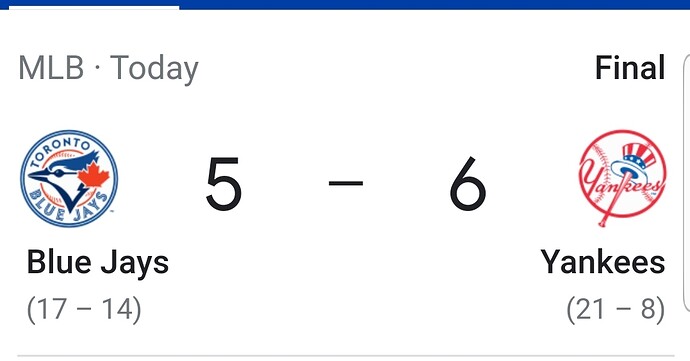 Cock sucker. I wasn't talkin trash earlier tonight was I ? LOL
When is the next Blue Jays game against the Yankees? That's when I will watch this thread again
Tomorrow at 1:05 East Coast time
Thank you good sir.
I would say Enjoy your ice cream tonight.
Because I predict an epic beat down tomorrow
I know sometimes people exaggerate and say that I'm literally dying laughing right now. And shit like that.
But that was a perfect fucking gif the first time you used it. And even better this time.
Tears in my eyes
Put some time in on my aerodyn this morning and then I walked the bike trails behind where I live for a few miles. Just took down a delicious breakfast burrito for lunch and I really don't want to eat an ice cream sundae this early, I still have the chocolate one waiting in my freezer from last night. The first inning was pretty scary with bases loaded and no outs but I'll gladly take giving one run up given that situation.
Well gentlemen, it was a goodtime enjoying your company for these first 9 gamesof the season. They have been extremely entertaining and the company has been great. A split 4 gamer, a very fun May The Fourth series, and a drama packed short series. I may peek in from time to time, however our teams will not meet up again until June 17th. I wish you guys good luck and obviously I'll look forward to seeing all of you for some MMA fighting action! Be well everyone!!!
I should have put all my investment money on the sweep instead of buying more rivian at $21.
good games though. Jays have to start putting things together if they want to keep things close in the east
You got that right. 17-15 ain't gonna get it done. Not even close.
Fucking do something.
Fuck.
On the verge of 6 straight losses…
They just needed a little Rosie "tough love" coaching!