Play stupid games, win stupid prize. What a mess.
I hope the security guard survived, it doesn't say shot about him. He was hit as well.
Someone posted this yesterday already I'm pretty sure.
Jesus, it's like the shooter was trying to spell his name on the white tile floor.
Looks like the guard ran back to grab stuff and was running fine. Looks like he has a bullet proof vest
He was def bleeding. You see it dripping when he gets his gun back
I had a bottle of A1 sauce do that in my kitchen once.
I opened it a bit to vigorously!
Also hope Security guy lived, he was hit bad too!
Burn in hell to that piece of shit that bled out!
The security guy got shot in the arm, so the gun fell out… he's doing fine, but the trash went straight to hell…
I was waiting for the revolving door compartment he was trapped in, to just start filling up with blood…
The shooter in the revolving door started doing the stanky leg!
Whenever someone starts doing the stanky leg you know he's going down.
Excellent news! Thank you!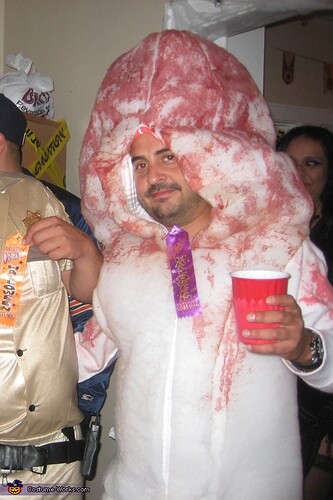 This should have been his disguise…
*posted by @BoydBucky in another thread
I done the tequila stakies lol
Was posted in Reddit yesterday.
Guard was hit in the arm. Robber received Darwin Award.