Accused '50 Shades of Grey' Rapist Acts Out Movie Fantasy in His UIC Dorm
The 19-year-old bio-nuclear engineering student allegedly tied his victim to his dorm-room bed with belts.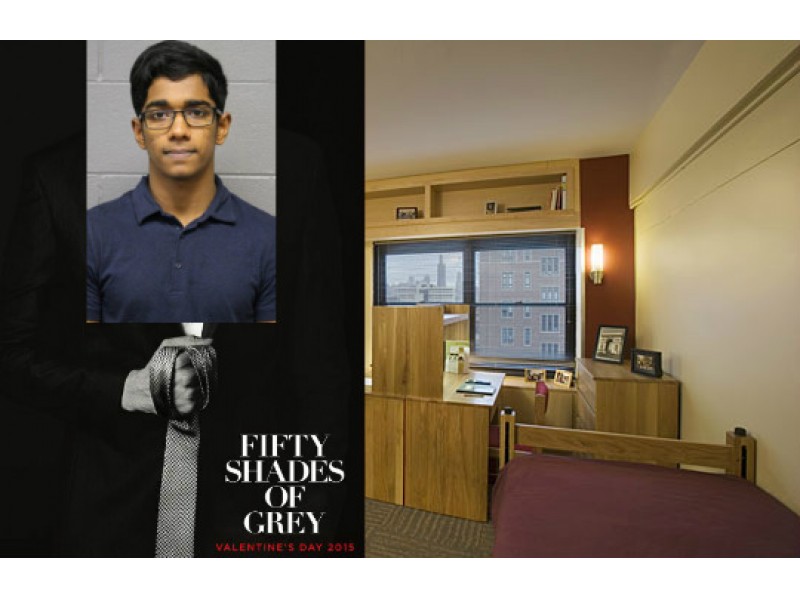 A 19-year-old Chicago college student raped a freshman classmate after he was inspired to re-enact scenes he saw in the movie "50 Shades of Grey," according to police and prosecutors.
Mohammad Hossain, 19, a bio-nuclear engineering student at the University of Illinois at Chicago, under questioning by campus police, apparently admitted he'd done "something wrong."
He brought the woman back to his dorm room Saturday at about 5:30 p.m., according to Cook County prosecutors, and persuaded her to strip to her undergarments for him. Hossain told police the two had been intimate in the past.
Hossain then used belts to bind her arms and legs to his bed, assistant state's attorney Sarah Karr told a Cook County judge on Monday, and pushed a necktie into her mouth. He blindfolded her with a cap, removed her bra and panties and whipped her with another belt, Karr said. The young woman cried, told Hossain "you're hurting me," pleaded for him to stop and repeatedly told him "no," according to police.
Hossain, however, pressed on with his "50 Shades of Grey" fantasy, prosecutors allege, punching her with closed fists and holding her arms behind her back as he forced himself on her.
Hossain's roommate returned to the dorm room, but the young man initially wouldn't let him enter, according to police. His accuser then left the dorm and called police, who tracked Hossain down in another campus building that night.
An hour after the attack, Hossain posted this status to his Facebook page: "I'm finally satisfied — feeling accomplished," with an eyebrow-raised smiley face.
Assistant Cook County public defender Sandra Bennewitz noted for the court that the accused rapist is a triathlete, involved in student leadership and is a student ambassador to the alumni association, a fact that shocked Judge Adam Bourgeois Jr., according to the Chicago Tribune.
"Sandra, how can someone involved in all that let a movie persuade him to do something like this?"
The judge then set bail at $500,000 — which apparently shocked Hossain as the Tribune noted he walked "back to the lockup with his mouth wide open."
The Columbus, Ohio, native is charged with felony aggravated criminal sexual assault and barred from returning to the UIC campus.
On his Facebook page, Hossain posted this statement as his purpose in life: "I want to understand everything, about everything. There is absolutely no limit to the curiosity of the human mind, if there is such a thing then I want to discover it, frankly I don't believe there is. I want to discover the reason why it is we do what it is that we do, is there a purpose? What's the end goal? Try to get on my level of thinking and curiosity, then we can be friends."
DNAinfo Chicago reports that Hossain must submit to electronic monitoring if he manages to post bond. If convicted, Hossain could spend six to 30 years in a state prison.