LMAO this movie is so fucking good it even has its own cheerleaders at the showings!
You all live in Mobile Alabama?
For everyone stroking themselves after spending their time looking at seat availability for a movie they hate without having seen…why don't you tell us what movie you predict will be #1 this weekend?
I live 10 minutes away from the largest city in America with a black majority. (Detroit, ya know 650k or so).
They don't want to see this movie.
100% chance that Don't Worry Darling will finish #1 this weekend, probably with around $25MM.
The real competition is at #2, where the Avatar re-release could make $10MM or totally shit the bed, depending on how hyped people are for the upcoming sequel.
If Avatar disappoints, then Woman King should take the #2 spot with somewhere between $7MM to $10MM. If Avatar has a big weekend, then the Woman King will probably finish #3.
But how can this be if it has fewer seats booked than the Woman King screenshots incels are chortling over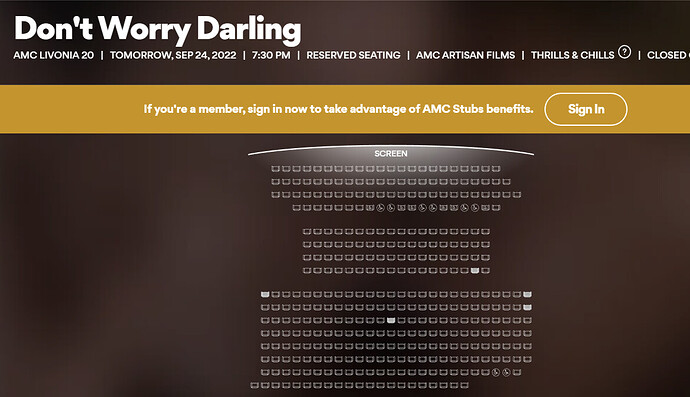 Who buys movie tickets in advance for a movie that won't sell out? Especially the day before? .
You want a specific seat it's yours.
I'm not sure why you're bringing up other movies when this is a thread about the giant flop that is the woman king.
It's like a thread about Biden and you'd be like but trump. It's not about anything but the topic at hand which is woman king. Sorry you keep trying to say it's a good movie when it's a giant flop failure.
Start a thread about those other movies and you'll find . No one cares because it's not being promoted as the next coming of wakanda.
CPH ran out of arguments.
So he fell back on, but, but, but it will be the highest grossing movie of the weekend.
But he forgot about Avatar.
So he was wrong.
Again.
I always reserve online because there are only a couple of rows I like to sit in. Preferably right behind the handicap seats.
Lol then why are you all posting screenshots of theater seating as though it proves anything?