Hey everyone, check out BJ Penn's most recent blog at Bleacher Report!



Not a lot of fight-relevant info in this one, but still some interesting stuff including him returning to training in the Philippines, acting on Hawaii 5-0 and more. It's good to hear that his spirits seem to be high again.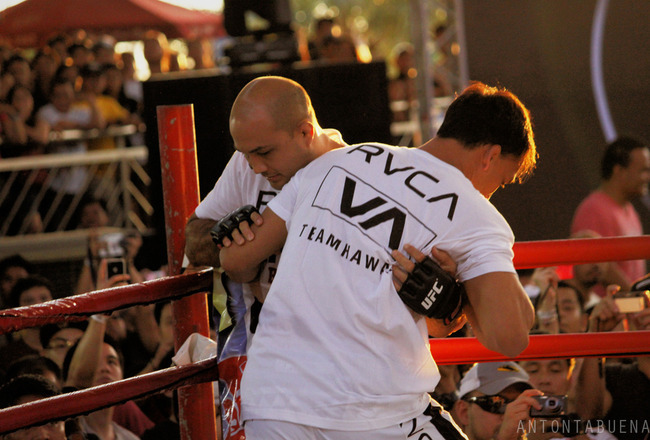 BJ Penn Column at Bleacher Report: Checking in From Manila, Philippines




It's a new week and with that comes my latest blog post. A lot has happened since I last checked in here at Bleacher Report.
To start things off, my part in Hawaii Five-0 that we filmed last week was good. I played just a random no-name guy. I guess you would call him like a surf punk type of person. The cool thing is they can expand on that character if they want, and I can come back and do other small appearances on the show.
Kala, one of the guys involved with the series, said I was holding my own in the acting department, so that was pretty awesome. He made me feel good!
Like I told you guys last week, we filmed the show out in Oahu While I was out there, I spent time with the president of RVCA, Pat Tenore.
We didn't get a chance to get that surfing competition in, though. I mean, the waves were good and everything, but we just got busy. I guess Pat will have to take his beating another day.
This week the UFC has me out here in Manila, Philippines on a media tour.
So far, so good. I flew from Hilo to Oahu and from Oahu to Seoul, Korea than on to Manila. It was a long trip, and I am having a hard time sleeping, but we are pushing through it.
Cool thing is, I ran into some old friends from back in the day. Casey and Ferman and I was able to get in a nice 45-minute run with them. It was nice to see them, but the run didn't help me much in the way of tiring me out, so I can sleep as I had hoped it would.
We are getting a lot of love out here in the Philippines though. Everyone is great and they are treating me real nice. I have met a lot of people, a lot of big wigs out here, and they are giving us warm welcomes everywhere I go.
They have me on the biggest TV network out here, playing all my fights for the fans and getting the word out as far as promoting this tour goes. I couldn't ask for more as far as press and coverage is concerned.
When I first arrived here I was able to sit down and talk to the guys that run the UFC magazine Philippines edition. Jon Jones is on the latest cover, but the guys out here said they wish they would have had more notice for this trip. They said they would have put me on it.
No biggie really, they still gave me a nice spread in the magazine. The article is called "The Prodigy Arrives" and it's a great feature.
The climax of this tour so far has been today's open workout at the Mall of Asia. They had me go and workout for the fans, and, man, the Filipino fans are great. I don't know exactly how many people came out to see me hit pads and work out, but it was a huge mob, several thousands, I couldn't believe it.
After the workout, I took to the crowd and tried to shake everyone's hand, give autographs and take pictures, there were too many people to greet everyone, but I hung around as long as I could. It was an honor to represent the UFC out here and give the fans a good show.
That's about all I have this week guys, I am finally settled back in my room over here at the Shangrila Hotel and I am due some sleep. Tomorrow we are going to go around and check out the local gyms and just finish up with what they have me scheduled to do.
Thanks again for taking the time to read my writing. My life is always busy, and always an adventure. Stay tuned next week for the latest and greatest in the life of a real Mixed Martial Arts fighter.
Until next time, Aloha!



Photos Courtesy of Anton Tabuena