Here is BJ Penn's most recent [third] blog for Bleacher Report MMA! Hopefully you guys are enjoying it.



If there is anything that you'd like to see BJ talk about, please feel free to leave comments here or at our site on Bleacher Report. I can't guarantee that he will talk about it, but we will present as many good ideas to him as we can.



With that said, please enjoy!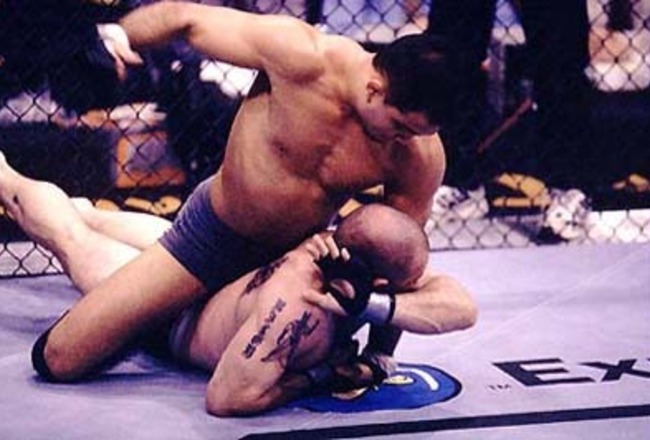 BJ Penn Blog for Bleacher Report MMA: The Never-Ending Evolution of Mixed Martial Arts




When I first started out in this sport, I did it for the test, for the purity of being a martial artist and putting up my jiu-jitsu against the craft of other tough, competing athletes and their styles. I didn't do it for fame, for money or for titles and championships.
Back when I started, my first UFC fight sold out in Atlantic City with about only 2,500 fans in attendance. The sport wasn't that big, I could walk down any street and no one would recognize me or anything like that.
Back then my goals where to just have a jiu-jitsu academy, have a successful school that I could teach at and that was pretty much it. But the sport grabbed a hold of me.
I had a good run in the beginning. I kept winning and I had a good relationship with the UFC. Suddenly, the hunger for world titles started to become a priority of mine.
And it still wasn't for the money or the fame, because again, back then there wasn't really any of that. My hunger was still purely driven by the test: to prove I was a world-class fighter with skills that could rival anyone.
Things have definitely changed since then. I used to be able to get Dana White on the phone pretty easily, a text or phone call if not immediately answered would be returned in the very near future, but now the president of our organization is so busy, it's much harder to reach him.
Back then, the company still wasn't that big. It was more of a family atmosphere. There weren't all the media obligations that there are today, the signings, the press events. All that stuff was just on a much smaller scale.
Today, to be a UFC fighter is more than a full-time job, it is a lifestyle. In my time with the company we went from small venues to huge arenas, from being virtual unknowns in the sporting world to being on video-game commercials and TV shows. Fighters today are now global celebrities who have a chance at fame, power and wealth. More sponsors, more publicity, everyone seems to want a piece of the MMA world nowadays.
It is because of these new aspects that we have seen a new type of athlete enter the sport. Not just in the UFC, but in other promotions and in MMA gyms across the country. It's a completely different energy now.
Fighters now are hungry for titles; they are hungry for the fame and the money. It's just not like it was back when I first started out in the game where we just wanted to test ourselves. Today, rather than fighting for the sheer test or competition, the up-and-coming guys are hungry to make a better life and are living from the sport. Now they're here to make their dreams come true.
The level of athlete has also improved a bit. The competition has maybe gotten a little steeper, but in reality, it's not like anyone is bringing anything new to the table. I mean, you have good jiu-jitsu guys, good Muay Thai guys, good boxers, and so on. But we have always had that in the sport.
Sure, guys are more well-rounded now, but the styles they use have been around since before the UFC existed and the new guys aren't really bringing in anything we haven't seen before. They are just hungrier for things that didn't even exist when this sport was on its way up.
I think that with the new FOX deal and with the popularity constantly growing, the sport hasn't even come close to reaching its peak. Every country in the world is jumping on board the MMA bandwagon and they each bring their own style of martial arts to the table—and that is definitely something to look forward to.
In Japan, they have karate, in Korea they have Tae Kwon Do, in the United States they have western boxing and wrestling and as the sport grows we are going to see more and more of these styles entering the cage, which will make things very interesting going forward.
When the sport does go global and the UFC is in every country, I wonder what will happen to the depth of each division.
Right now, we have primarily American, Brazilian, Canadian and Japanese fighters on the world-class level. However, when the guys from say, India or, I don't know, Colombia, start reaching a high level with well-rounded skill sets, will there be enough opportunities for each fighter to ascend through the rankings?
I think maybe regional titles may be a decent idea to be put in place, like an Asian UFC champion, a European UFC champion and just go down the line like that when these regions start developing the talent to justify such a thing. You can do all these things with the sport as it grows.
However, I feel convinced that no matter how big the sport grows that there can only be one world title, only one world champion. But how interesting is it to consider the different ways that the UFC will deal with the future as this sport continues to grow?
So far it has been an amazing ride. I have fought for the UFC and other promotions across the globe, I have fought in different weight classes against a variety of different opponents and styles, and I don't have a crystal ball to say what the future really holds for the sport of mixed martial arts, but back when I started I don't think many of us ever imagined it would take off the way it has today.
And to think, this is still only just the beginning.
The current UFC champions are amazing athletes: hungry, talented guys who are leading the UFC into the future. With everyone on board now and all the support the sport now gets, the sky is really the limit. And only time can tell how high this thing will really go.