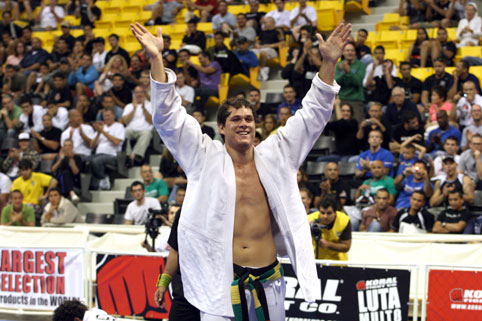 This Saturday, on the main card of Strikeforce: Diaz vs Cyborg, Roger Gracie faces what will be widely considered his most significant test yet in what is still an embryonic MMA career.
In Trevor Prangley, Gracie must overcome a strong wrestler as well as a substantial experience deficit. Whilst Prangley is certainly not a renowned striker, he will likely seek to utilise a substantial advantage in stand up training experience by keeping the fight on the feet. Unlike some of Roger's previous opponents who were dismissed as well past their prime, in the case of Randleman, or grossly undersized, as was the case with Kondo, Prangley can be considered nothing less than a solid light heavyweight- as testified by a recent win over Keith Jardine. It will be this fight that defines Roger as either a true MMA prospect, or as a grappler who still has some substantial refinements to make before the highest tier of MMA competition beckons.
Despite fighting a substantial portion of his bout with Randleman standing, it should be no secret that Roger Gracie will look to win the fight by submission. It would be supremely illogical not to do so considering that no one in the world should hold the advantage over him on the ground. There is of course the danger of ground and pound to be incorporated into his MMA game but should he be able to recreate a positional grappling battle and minimise striking, Roger will be the heavy favourite. In grappling Roger's dominance is, if anything, under-emphasised.
Roger has not merely won the Mundials seven times, but has done so with a uniquely high finishing percentage- owning multiple submission wins over the very best in the world whilst never being finished himself as a black belt. His only losses are by the narrowest of margins, his opponents usually seeking to eek out a points victory rather than engage more actively. Whether this astonishing record of success will translate to comparable achievements in MMA remains to be seen, although it has been the source of some speculation.
His particular style of jiu jitsu could be accurately summarised as orthodox. Roger is not known for using esoteric techniques, and finishes most of his fights by classic manoeuvres such as the collar choke from mount (notably, he finished every one of his matches in the 2009 Mundials with this technique), rear naked choke in no-gi, and the occasional armbar (presumably for variety). He doesn't overly rely on the gi- largely rejecting spider guard and it's variants- and tends to work from a tight closed guard, often pulling an arm across to take the back or working for an armbar from the bottom (as he did against Ron Waterman in his MMA debut). He has also developed some high percentage half-guard sweeps. More often than not, his goal is to advance to mount, or the back, and finish from there. It is the tightness of his positional grappling that should transfer across to MMA particularly well. His spree of collar choke finishes should not be crudely interpreted as the hallmark of a gi grappler, but also attest to a virtually inescapable mount. At any rate Roger's ADCC success casts aside any insinuation that he cannot enjoy the same success in a no-gi environment, contrary to the claims of certain Strikeforce announcers who insist that Roger is unfamiliar with the rear naked choke (the same move that he submitted Xande Ribeiro, Fabricio Werdum and Jacare with, all without clumsily reaching for a piece of non existent material).