The University of Washington, like other colleges, published a poster outlining the appearance requirements to try out for the cheerleader squad. Seems reasonable to me: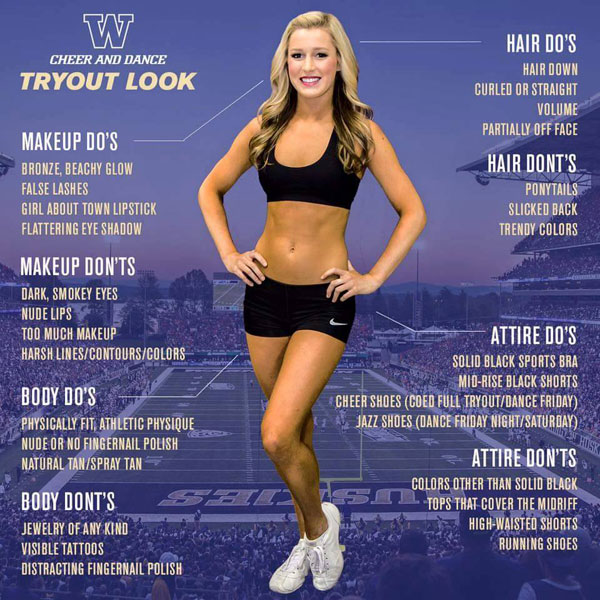 Naturally, it resulted in a social network firestorm for body-shaming the 200-pounders who might want to try out:
After a social media firestorm, the University of Washington cheerleading squad took down a poster with "do's and don'ts" of how people should look for their upcoming tryouts.
Twitter and Facebook users called out the squad, saying the poster encourages body shaming and prioritizes appearance over ability with "body do's" like being "physically fit" with an "athletic physique." They also ask that potential cheerleaders wear just a sports bra and mid-rise black shorts, while telling them not to wear any tops "that cover the midriff" or high-waisted shorts.
In a statement, the University of Washington athletic department said they instructed the squad to take down the poster after realizing that it could be seen as offensive.
"In response to a high volume of student questions about cheer and dance team tryouts, a member of the UW spirit leadership team created a graphic aimed at providing interested students information in preparation for the tryouts," they tell PEOPLE. "The graphic was removed immediately, after a UW athletic department official saw it and determined that some of the details and descriptions provided were inconsistent with the values of the UW spirit program and department of athletics."
"Athletic department officials have reinforced the values of the programs to UW spirit leadership, and look forward to an equitable and diverse tryout process for interested students."
SJWs ruin everything.
WSU had a similar poster: