No. Yan has the power and gas tank to beat Cejudo. Yan is the better striker.
Yeah CCC has too many tools for Yan. 
stevekt -

He's retired. 
He could roll off the couch and eat Yan alive
I'm a CCC fan and don't think it would go well for him 
Easily! Yan is one dimensional and Aldo exposed that big time until he gassed.

Yan mentioned in the post fight how Aldo's leg kicks forced him to southpaw but that was a good adjustment by him to recognize that and have an answer, I will give him that. Very smart!

CCC is so much faster and obviously far more dynamic in his MMA skillset. Yan better hope CCC doesn't come back.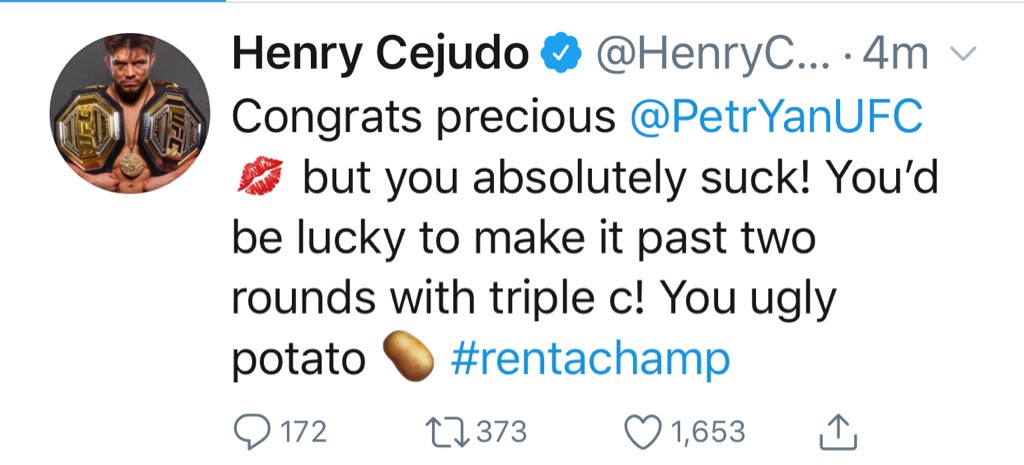 Rabid Bunyip -




Bwahahahaha! Funny, but at least true!
I agree. Cejudo is way faster, and has great game planning.  It would look similar to Moraes fight except Yan has no success on the feet. Cejudo is the real deal and the superior martial artist. Also cejudos boxing is super underrated. Yan loses 9/10 times 
crazydave -

So does dom. 
I agree with this as well. Yan looked super one dimensional. 
Cejudo smokes him then retires. Then comes back then retires. Then comes back then retires.
#whipped
Im not sure. Aldo had his moments on Yan but Yan measured it up, weathered the storm adjusted well and came on when Aldo gassed. Cejudo is stronger, better cardio and has the wrestling. Yan did show good tdd against Aldo in R1 although Cejudo's wrestling is much better of course - good set up by Aldo though.

I think it would be a good fight, perhaps I wwould favor CCC.
he'd make Yan his second gf ever
If cejudo were not retired, I'd like Yan's chances. Henry may be the betting favorite, but Yan is no joke. He would bring a pressure and aggressiveness that no one has brought to Henry yet. No way it's an easy fight for either guy, 
make fights. Yan is a beast.