On Sunday, Capitals forward Devante Smith-Pelly discussed the racial taunts he received from people in the attendance for Saturday's game between Washington and the Blackhawks that led to four people being removed from the United Center.
During the third period of Chicago's 7-1 win, Smith-Pelly was in the penalty box when a small group chanted "basketball" at him, because Smith-Pelly is black. On Sunday, Smith-Pelly said this has happened to him previously and referred to it as "disgusting."
"It's sad that athletes like myself 30, 40 years ago were standing in the same spot saying the same thing," Smith-Pelly said. "You'd think there'd be some sort of change or progression, but we're still working towards it I guess, and we're going to keep working towards it."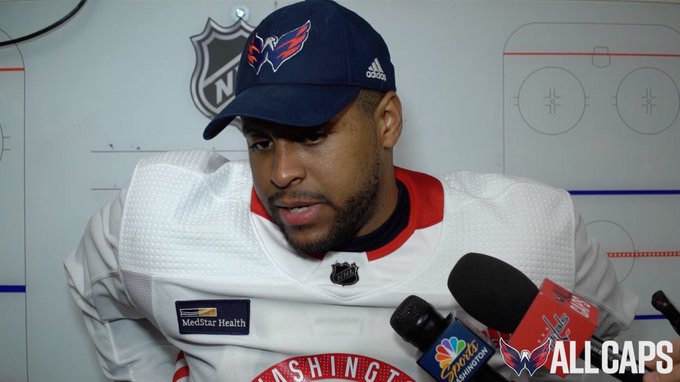 Devante Smith-Pelly on the incident last night in Chicago.
The Capitals and the NHL released statements Sunday condemning the behavior of those who were chanting at Smith-Pelly.
Washington's statement reads:
The Washington Capitals are extremely disappointed by the intolerant behavior extended toward Devante Smith-Pelly by a select group of fans during Saturday night's game against the Chicago Blackhawks at United Center. The Capitals organization strives to be inclusive and has zero tolerance concerning any form of racism. Such behavior is unacceptable and has no place in hockey or society. As such, it is crucial to confront such appalling conduct, and the Capitals extend their appreciation to the Blackhawks organization and United Center security for swiftly removing the fans from the game.
The NHL's statement reads:
Last night in Chicago, individuals directed racial taunts and abuse at Washington Capitals player Devante Smith-Pelly. The National Hockey League condemns this unacceptable and reprehensible behavior. The League fully supports the actions taken by the United Center and the Blackhawks to eject the offenders and would expect the same response to any similarly unacceptable behavior at any of our arenas.

While this incident was isolated in nature, no player, coach, official or fan should ever have to endure such abuse at one of our games. The League will take steps to have our clubs remind all stakeholders that they are entitled to enjoy a positive environment - free from unacceptable, inappropriate, disruptive, inconsiderate or unruly behaviors or actions and may not engage in conduct deemed detrimental to that experience.
The Blackhawks also released a statement Saturday after the game.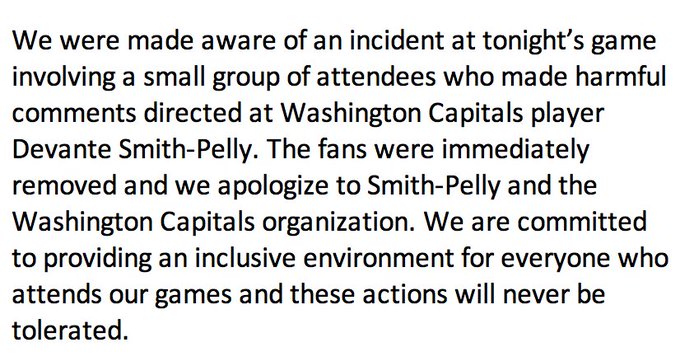 Chicago Blackhawks?@NHLBlackhawks

Statement on the incident at tonight's game
The Capitals next game is Monday on the road against the Sabres. They return home Tuesday for a contest with the Lightning.