Kym wins his match at 1min 20sec by back choke!

Congratulations!

Elvis
This is for your victory!
Elvis*edited html error*
About time Kym did something other than an armbar!!!

Well done Kym and good luck with everything in the future.
Congrats Kym. Well done.

Regards

Chris Shen
Apparently the tried some advice from another fighter... ;)

Well done Kym!

Elvis
Also big thanks to Elvis for the pics. :)
was the fight televised on fox?
No idea, anyone know, if or when it will be televised?

Elvis
Thanks Elvis, thus far my victories have not earnt me any rewards like that thus far.

Was a great show, except for the storm, the ring was wet.

Ta for all your help and support guys it was a great honor to fight on a Tarik show.

It will be on Fox in a month, I think...


Pete was a tough guy, and a nice bloke. Was a privellege to step into the ring with him.


Kym

PS: who was that fighter who gave me the advice ;)


"PS: who was that fighter who gave me the advice ;)"

Some has been I believe... :p

Elvis
Congradulations Kym, well done.

Stay tuned for big news with MMA and Tarik.
Also a big thanks to Peter, both fighters stepping up on short
notice.
well done Kym. sounds like you had a great weekend, Ben passes on his congrats as well.

catch up when you get back

Mark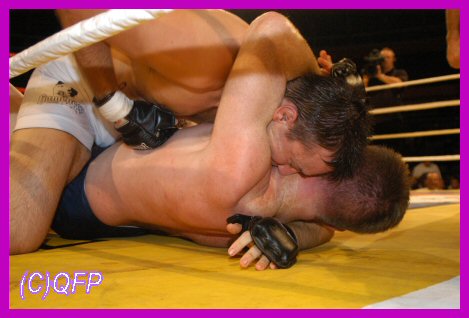 I have to say Elvis's pics are heaps better than Emphatik's. ;)
All I have to say is I would like to be in the position I am in Mark's pics...with one of those people that appear in Elvis's pics ;)


Kym
In a headlock while punching them in the ribs? And to think I was going to hook you up with that nice ring girl...
Haha !

Promises promises !



Hey Elvis these girls look better then a thursday night at the jolly roger?
Only the start of the night, not the end... ;)

Elvis