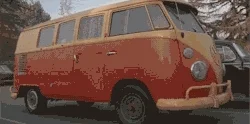 My dad had a shorty dodge with some epic character on the side, cragar mags with a front drop, side pipes and velour interior
fucking loved that thing.
"If the van is rockin', don't come knockin'!"
I would love to see a shag wagon revival, but all the vans, except maybe the Dodges, are too fagged-out off the assembly line to be good customization candidates.
Chevy needs to make these:

Those don't look terrible.
I don't care what anyone says, my astrovan kicked ass.
I want one of those new vanduras
I was driving in portland and some mexican dude in his slammed astro was cruising with his boom ching boom ching music on 11.
Coolest fucking thing ever
Which reminds me
Why do mexicans drive lowriders?
so they can look cool while they're picking lettuce.
My dad restored his '68 vw bus. We drove from california to MN in it when i was a kid and it then sat in my grandparents barn for 30 years.
Unless it had a waterbed and wood paneling, I remain unimpressed.
My parents did have a waterbed (still do actually) but it wasn't in the van.
there was some wood paneling on the walls, but it had a velour roof and upholstery and shag carpet
prototypical 70s custom van.
I'd take the GMC, especially if I could get Rampage to drive me everywhere.
We have one like that here
My friend and I used to spend hours doing drawings of vans in the 70s. Not real vans, but exaggerated, cartoonish versions of them. I remember the diamond and teardrop windows being really popular. 70s vans and CB radios were the rage back then. And T-shirts and hats with "Keep on Truckin'" on them.
You strike me as a guy who would have had an Astro 4x4 on a Journey's lift…maybe riding on 32" BFGs.