Nick took time out from his busy schedule to have a little dinner with Mr. Muggles and I @ the Trump International across Central Park.



Because he was so hungry and smashed the Fois Gras and appetizers before I could get a pic, I made sure to get one of the desserts for you guys.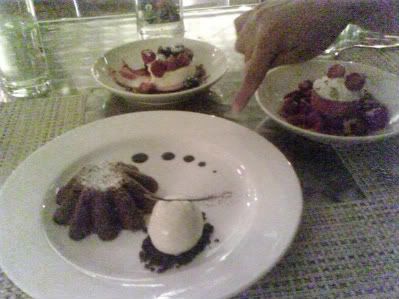 The Rasberry Sorbet with reasberries and cake crust, the chocolate volcano with hot choclate center and whatever strawberry thing that was there too were all WIN!



Sorry for the blurry pic but I had the Chinese Chicken fusion and Nick had a Red snapper tomato sauce something








Thank you Nick for taking the time out for us and we look forward to your Comedy Central special on October 11th and your new feature film in January.



More to come soon HG, but it is 3am NYC time, thus I bid you Goodnight.