Extreme Combat 4 

Sat.,Aug.19th 

at the

Bartow Arena in Birmingham,AL

 

Fight card is still open so register @

 

Weight Classes are

125,135,145,155,170,185,205,HWT
Scott - call Skip cell phone. thanks, ma
get on the birmingham fights july thread to find out what dumbasses not to depend on showing up.
Joey - we were in Memphis for Skip's training - he's got a fight coming up in a month against Dan Severn in Jasper. But we got several calls that the shit was raining down. Who didn't show and why? where were they from - I have a database list that has a growing number of no-shows and who NOT to have on shows. Need the info to add to my list.
later, Sally
scotty email me at jjamman@aol.com
when you get a chance.trying to get on the card.
I thought you were fighting for Jason on the 26th? lm
i just got screwed over this past weekend so i am ready to damn fight.i am going to try to do both shows if possible but i have no opponent for either yet.i can't wait for the unofficial xyience spokesman to get his ass back in the gym!!too bad defense soap doesn't heal hyperextension from armbars!!
That sucks dude! I know you've been wanting to eat some pancakes!! What are you keeping your walk around weight at now?
good luck Joey - waiting does have a way of making you want to gnaw your own arm off... later, ma
good luck on finding an opponent.
Fight card is getting full,
check out the website
extreme combat.org
Need a 205 Amateur and Pro
256 479 0878
why don't you have Josh Hall fight Greg Jeffcoat - both am at 205?
is the card correct on the website? get the fight card to me by Friday, thanks.
Sally
josh's Pro, Jeffcoat is Am. They are also friends from high school. I would rather put them against diff opponents
The 205 pro payout is $500
sorry just trying to help - later, ma
cards looking good.i don't understand the 3 guys that didn't show a couple of weeks ago.are they gonna make it?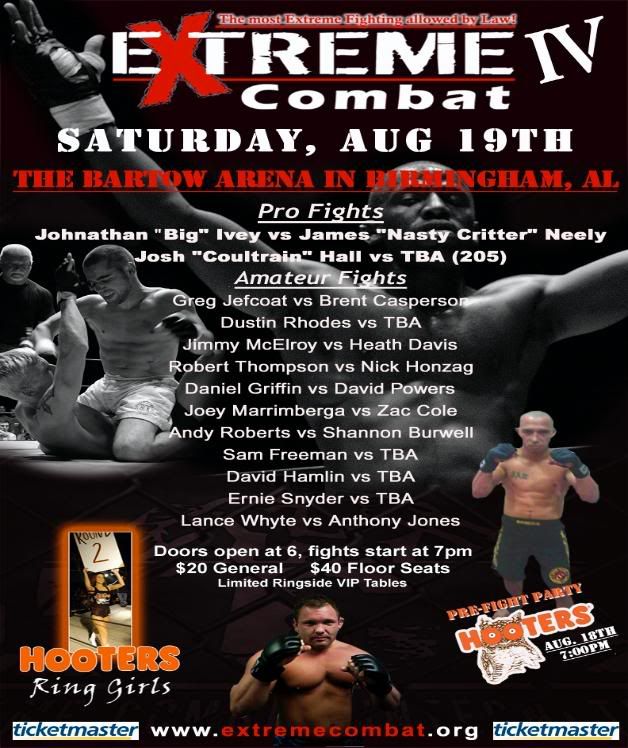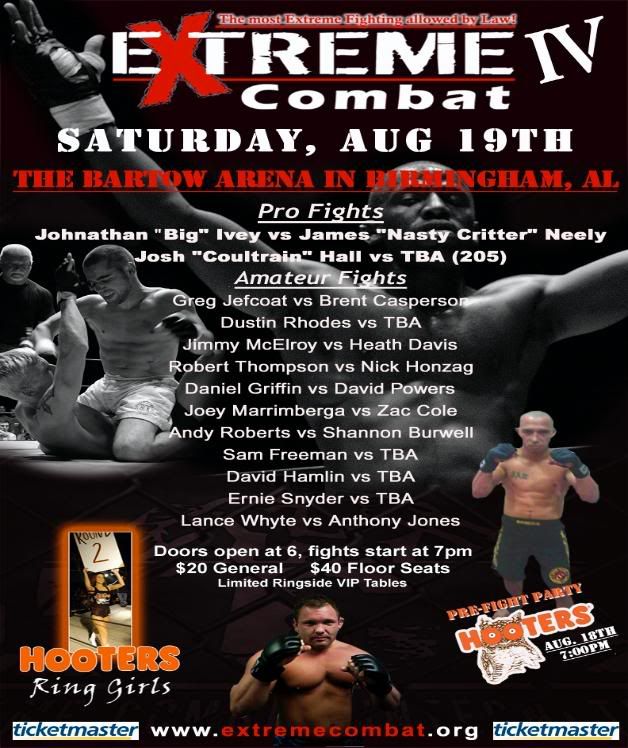 I wiil line their opponents when I hear from them, we will have some more fights lined up at weigh ins too. Last time they showed up for me; their pretty raw but very talented guyz with a lot of heart. Im puttin faith in them to show up for us
Theres not a bad seat in the house, its perfect for this event. It seats like 10,000. If you want to come help with the show i will get you in for free
call me scott
256 479 0878
top for the best show in Alabama! lm