https://misbar.com/en/factcheck/2020/10/04/fake-president-trumps-chest-xray
Emerging story
After President Donald Trump announced that he had tested positive for COVID-19, social media users claimed that Walter Reed Medical Center released his x-ay. Social media users shared a picture of the x-ray. 
The picture circulating has the following text: 
"FROM HIS DR'S EXAM AT WALTER REED HAS BEEN LEAKED." 
The picture circulating with the claim attracted thousands of users.
Misbar's Analysis
Misbar's investigation found the circulating claim false. Using TinEye, we found that the picture circulating has been first found in 2013 without any text. 
The picture was created by Nick Veasey, a British artist that uses radiation-emitting x-ray technology.
However, we didn't find any evidence or document that proves the Walter Reed Hospital released an x-ray. The same picture was shared in 2019.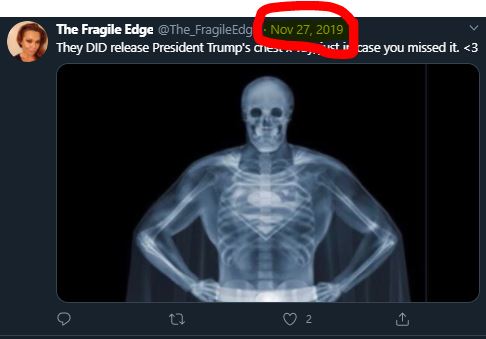 Misbar's >
Fake
Misbar's Sources
![](upload://r3qWfQlsGUk4YY9VeDVukD2eH2P.jpeg)TinEye
![](upload://m1mRVYVQeSmSFIqPu56NNMO3HQY.jpeg)Art Net
![](upload://ujY9q7YCZmV9ZQy7vqNtcpNgGPd.jpeg)The Fragile Edge
Was this article helpful?
YesNo
Read More