That's a long way to go for a truck. What's so special about this model and year?
Na. The guy was a fucking prick. He knew the second I said I was in Alaska I was fucked. I spent 10k at least just to get the mother fucker here. I actually got it last year when everyone was bitching about Covid/travel restrictions the mos. I would read the OG and you'd think everywhere in the lower 48 was a Warzone. Even trying to hire a truck from Maryland to Spokane was damn near impossible. There's only a select few that would even fuck with putting it on the terminal to Alaska. The fairies were shut down, couldn't drive through Canada. I think it was 3k (i don't remember) just to barge it from WA to AK (still another 500 miles to go in AK) Then I had to fly myself and another person from WA to AK to pick it up. To have it put in an enclosed trailer from Maryland to Washington it was outrageous. This was when the OG was obsessed with all the riots. I read this forum a lot. By most people's account on here you would of thought every highway was being protested and shit destroyed. The amount of money for an enclosed trailer I think was right around the amount of money to do it my self. Plus I got to go to Sturgis, Mississippi River, Badlands, devils cove, general Custers final battle, mt Rushmore. I didn't see one fucking riot or protest I even stayed in Washington for a week. If you came on this website you'd think Seattle was a Warzone. I even got all wasted and called Seattle PD asking them what I do if I get blocked by protesters before I left, they said call 911. I made a thread about it on here. You can't run them over, but I've also seen ppl get dragged out of their car and beaten or their car completely destroyed. You run them over you go to jail and I highly doubt Seattle PD responds very quick. I seen NO riots or protests the whole 4,000 mile trip Only thing I didn't like about WA was the homeless people that keep begging you for EVERYTHING. Light a cigarette or joint or leave a restaurant with a 2go box, you get SWARMED.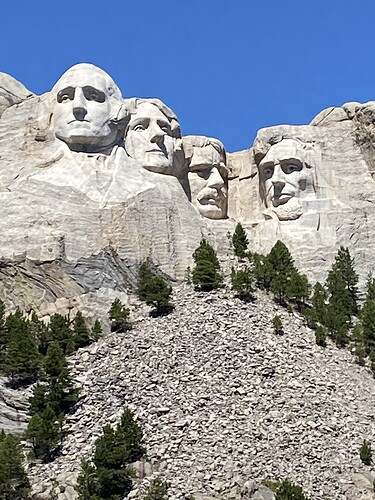 That cleaned up very nicely. Enjoy.
I didn't realize the numbers Ford was saying stock were correct. I love the Lightning. Good for you dude. It's never too much if it's what you want.
I was honestly curious about it. First stock vehicle I ever got dyno'd. My buddy had a 99' grey one. There's definitely a difference. Between the 0-60 and 1/4 mile. I've never personally raced a stock Lightning vs a SRT Ram, but from most the videos on YouTube the lightning usually wins in the 1/4 mile. My buddy's Lightning was stock maybe a air filter or some shit, I seen a Harley truck whip his ass. The guy wouldn't even pop his hood at the end to show us what he had. Jerk haha. Lightning is definitely my favorite vehicle to drive I think. I was so pissed when they unveiled this one and didn't release it. It's honestly too much power for any moron to drive. They are dangerous trucks.

The rwTQ is more impressive than the rwHP! TQ is every bit as important as HP, for how a vehicle actually performs - people tend to not understand that.
Everyone knows that haha. Well anyone that knows basic engines. Torque is your burnouts haha. All that HP is worthless with no torque. I like having top end speed, my favorite is driving a car right about 3500-4000 rpms then stomping it at peak power-band. Chevelle I love going down huge ass hills and throw that bitch into 3rd or second. Pop pop pop pop
u found a car, i lost one
You may have overpayed but in a few years it wont really matter, you found the truck you want.
I got one also
Got mine off the showroom floor. Mother fucker dropped it off like 4 miles from my house. I had to drive this thing in that weather. I had to have some one push me at stop signs, had to spread like 100lbs of kitty litter to get it in my garage. You better have the Manual. I love the way the secondary valves open on the exhaust.

C6 Z06 only comes in manual.
NICE… MY FIRST TRUCK WAS A LIGHTNING. SOME DUMB UNINSURED BITCH HIT IT AND TOTALED IT. I WAS SUPER PISSED.
I think you're right. Getting an automatic never even crossed my mind so I never even looked into it. I would of got a ZR1 if it had the 427 and the blower lol. I was kind of mad that they put the 6.2 in it instead. I was fucking on a ripper when I bought my Z06. Bought it in like February or March I think 2013. Terrible idea, was like -20 below when they delivered it. That thing is a mother fucker to drive in the snow. We looked like complete idiots. One lady at a stop sign was yelling "buy a winter vehicle." I just went off on here. You think my plan is to drive a fucking brand new Z06 in the middle of fucking winter. You got the anniversary edition also? Which LZ package you get? I tried to buy this ZR1. If I recall it was in Texas. It was a very reputable dealership. It was a fucking steal at that price. I think it had like 10,000 miles I don't think it did. We had issues getting it shipped or something I think. They're a pain in the ass to haul, you gotta chalk the fucking wheels up just to get it on a trailer. This car I believe is a little lower than the Z06. Z06 is too low as is. It was a manual 3lz it had the badass seats also. It was too good to be true. Fuck 3:47am I must of been on one.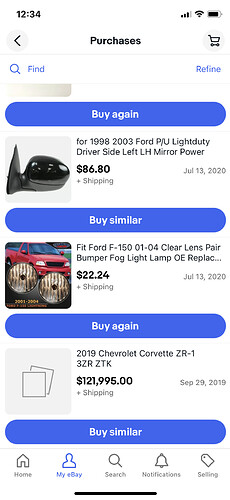 Was it the first or second generation? I think you're a little older than me. I never got to drive the first gen. They're badass for their time.