Great card tomorrow night at Helsinki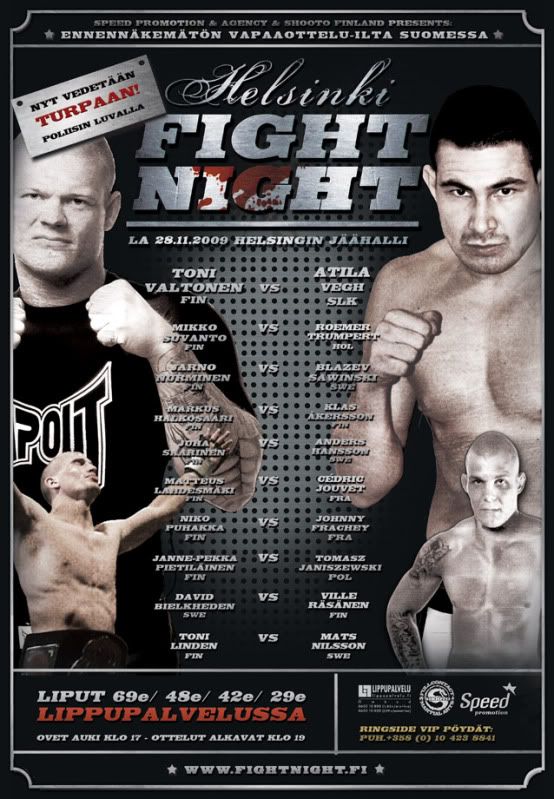 -83kg
-83kg
Toni Linden. Finland (1-0)
vs
Mats Nilsson. Sweden (3-0)

2. -65kg
Cédric Jouvet. France (7-3)
vs
Matteus Lähdesmäki. Finland (7-4-3)

3. -93kg
Toni Valtonen. Finland (20-9)
vs
Atila Vegh. Slovakia (11-1)

4. -76kg
Ville Räsänen. Finland (7-2)
vs
David Bielkheden. Sweden (14-7)


5. -83kg
Mikko Suvanto. Finland (9-4-1)
vs
Roemer Trumpert. Holland (7-6)

6.+100kg
Jarno Nurminen. Finland (4-2)
vs
Blazev Sawinski. Sweden (1-2)


7. -91kg
Juha Saarinen. Finland (3-1)
vs
Anders Hansson. Sweden (2-0)

8. -91kg
Markus Halkosaari. Finland (4-5)
vs
Klas Åkesson. Sweden (7-3)


9. + 99kg
ADCC Superfight
Janne-pekka Pietiläinen. Finland (ADCC European Trials champion)
vs
Tomasz Janiszewski. Poland (ADCC European Champion)

10. -70kg
Niko Puhakka. Finland (16-9)
vs
Johnny Frachey. France (8-7)
TTT for a great Euro event
Really good card. Do you know why Sauli Heilimo is not fighting?
Venom77 - Really good card. Do you know why Sauli Heilimo is not fighting?
Ross Pointon got injured and was forced to withdraw. Also Jani Lax vs Anton Kuivanen was canceled due to an injury suffered by Kuivanen.
Unofficial results (what I can remember)
1. -83kg
-83kg
Toni Linden. Finland (1-0)
vs
Mats Nilsson. Sweden (3-0)
Draw

2. -65kg
Cédric Jouvet. France (7-3)
vs
Matteus Lähdesmäki. Finland (7-4-3)
Lähdesmäki by armtriangle choke R1
3. -93kg
Toni Valtonen. Finland (20-9)
vs
Atila Vegh. Slovakia (11-1)
Valtonen by SD

4. -76kg
Ville Räsänen. Finland (7-2)
vs
David Bielkheden. Sweden (14-7)
Bielkheden by TKO strikes R1

5. -83kg
Mikko Suvanto. Finland (9-4-1)
vs
Roemer Trumpert. Holland (7-6)
Suvanto by TKO strikes R1

6.+100kg
Jarno Nurminen. Finland (4-2)
vs
Blazev Sawinski. Sweden (1-2)
Nurminen by RNCesque choke R1

7. -91kg
Juha Saarinen. Finland (3-1)
vs
Anders Hansson. Sweden (2-0)
Saarinen by RNC R1

8. -91kg
Markus Halkosaari. Finland (4-5)
vs
Klas Åkesson. Sweden (7-3)
Åkesson by TKO strikes R2

9. + 99kg
ADCC Superfight
Janne-pekka Pietiläinen. Finland (ADCC European Trials champion)
vs
Tomasz Janiszewski. Poland (ADCC European Champion)
Pietiläinen by RNC R1

10. -70kg
Niko Puhakka. Finland (16-9)
vs
Johnny Frachey. France (8-7)
Puhakka by UD
Pic from the main event. Shooto European champ Matteus Lähdesmäki looks a bit like Jardine in this photo.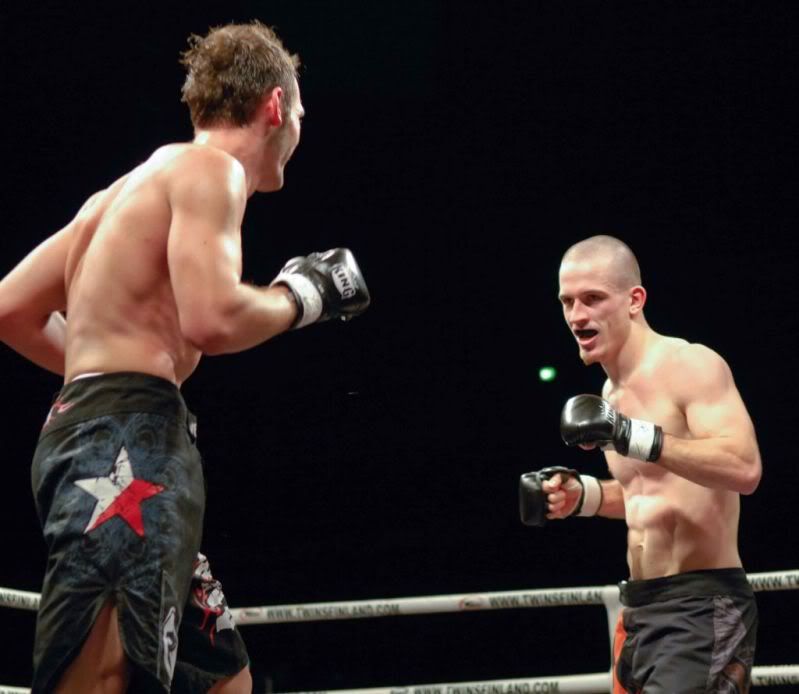 LOL at Valtonen in a TapouT shirt...I wonder why that is?
The guy has swastikas, white pride & other nazi tattoos on him, he often fights with a shirt on too to have them covered up.