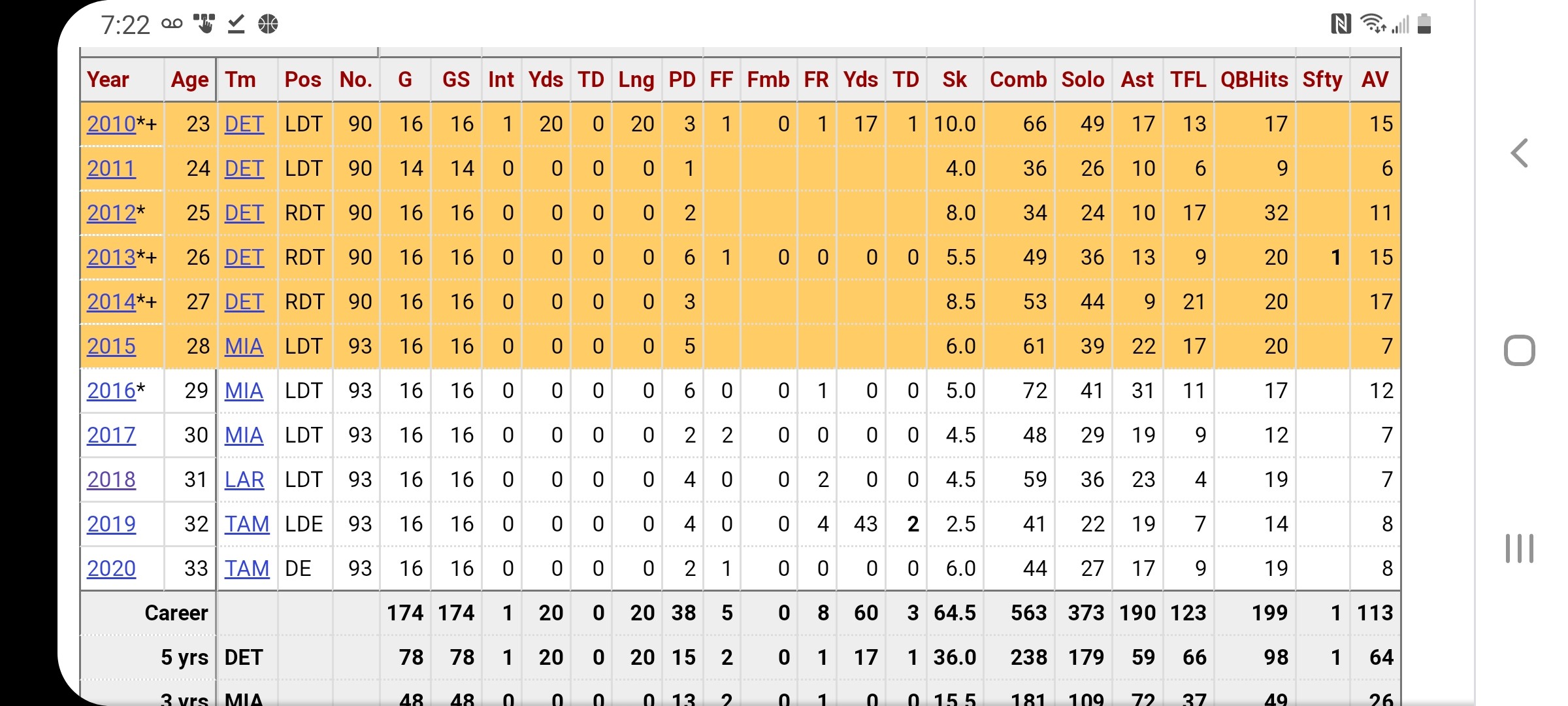 Suhs body of worknot a chance in hell for HOF
Gronk tied Jerry Rice as the only player to catch multiple touchdowns in 2 different Superbowls
Smilin like Rashad -



Suhs body of worknot a chance in hell for HOF
There is literally zero doubt that he's a HOFer
KaepernicksTheAppleOfMyEye - 

Smilin like Rashad -



Suhs body of worknot a chance in hell for HOF

There is literally zero doubt that he's a HOFer
I'd say he has a very good shot, but there is some doubt.
He ranks 12th among DT in Hall of Famer monitor, which puts him in pretty exclusive company, but Kevin Williams hasn't made it in and he clearly ranks above Suh. Guys like Fletcher Cox, Haloti Nagata, Vince Wilfork, Ted Washington, LaRoi Glover, and Bryant Young haven't made it in either despite having similar resumes. Plus, he has the misfortune of being a contemporary of Aaron Donald, who is staking a claim as the GOAT interior defensive lineman.
https://www.pro-football-reference.com/hof/hofm_DT.htm
Abradolf Lincler - 



Tom Brady


Patrick Mahommes (Assuming he doesn't have a catastrophic injury)


Ndamukong Suh (5x Pro-bowl, 3x All-Pro 1st team 2x All-Pro 2nd team, DROY) 


Travis Kelce (6x Pro-bowl, 3x All-Pro 1st team 2x All-pro 2nd team, already 10th in yards at his position)


Tyreek Hill (5x Pro-bowl which is every season he's been in the league, 3x All-Pro 1st team) 


Rob Gronkowski


Antonio Brown (7x Pro-bowl, 4x 1st team All-Pro, 1x 2nd team All-Pro... shitload of accolades)


LeSean McCoy (6x Pro-bowl, 2x 1st-team All-pro, multiple years as relevant stat leader, 30th all time in all-purpose yards, 22nd rushing as of this year) 






As of right now I think those are the only locks. There are some other guys like Mike Evans and Honeybadger that could make it if they don't fall off a cliff. 




JPP is not close unfortunately, as much as I like him. Dude just does not have the stats or accolades to warrant the HOF. Le'veon Bell is also in the Hall of Very Good, but the year off, and sudden cliff he's fallen off of will prevent him from getting into the HOF. 




 




Also, Tyreek Hill and Antonio Brown might not make it for being rapists and child beaters respectively. But I mean, Ray Lewis killed two people, so who knows. 
JPP claim to fame is he's never lost a playoff game and has 3 rings

if he's at all close that has to mean something

kind of like Kurt schilling or andy pettite- not quite the regular season stats but the rings mean something

his body of work is not over
he has a SBW
has the pro bowls and all pro's
afew more years of 6-8 sacks to pad his stats and maybe another title…