Bobby Loopz' great thread and the ensuing discussion on "who was the most dominant fighter on their best night" brought up the seemingly unstoppable frate trane Lesnar that brutalized Frank Mir at UFC 100.
Lesnar's UFC100 performance is often referred to as this outstanding showing that is portrayed as unbeatable, brutal, and some would say the baddest man on the planet ever. The idea of the UFC100, peak, pre-diverticulitis Lesnar is one that will take any opponent down, establish position and pound the fuck out of them with his use lunchbox-cum-sledgehammer fists. Proponents of this idea maintain that Brock post-surgery was a shadow of his former self, with the Carwin, Cain, and Overeem performances all affirming this in their eyes.
Those who do not buy into it tell a different tale - referring to Frank Mir getting pounded out and floundering on the bottom for subs while his face gets abused against a number of guys being nothing out of the norm, and more a function of his own deficiencies rather than Lesnar being a demi-god in that night.
I decided to revisit Lesnar's fight with Couture at UFC91 to shed a bit more light on what level that Lesnar was actually on. You can view the fight here: http://m.au.ufc.com/media/ufc-91-lesnar-couture
Lesnar was 2-1 at the time of this fight, with wins over Herring and Min-Soo-Kim, and the loss to Mir. Lesnar opened as a slight dog (Lesnar +130; Couture -160) and the lines closed with him as a slight favourite (Lesnar -130, Couture +100). Couture's last two fights were the amazing comeback story of him toppling Sylvia for the UFC HW belt, and defending it impressively against Gonzaga.
Watching the fight (again, after a LONG time) I noticed a few things:
Randy, for the most part, controlled the clinch game. He was landing good shots from the clinch, for the most part had Brock carrying his weight.
However Brock had some nice knees in the clinch and on the breaks
Brock put Randy on his back twice in the first, and both times did minimal damage, not landing any strikes on the first TD and on the second landing two hammerfists.
Brock seemed to have difficulty establishing position and was too hasty to advance - the first TD he passed to mount very quickly but Randy escaped as he did this. This is echoes the flaws in his top game against Cain and in the first Mir fight.
Brock was stuffed a couple times by Couture
Couture briefly took Brock down and nearly did again, a fence grab may have saved Brock here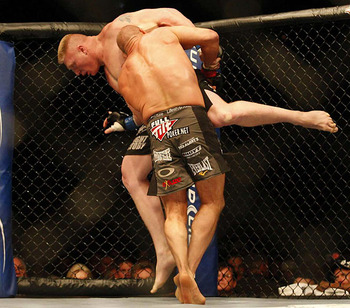 Brock generally looked uncomfortable in the standup (as he always does)
Brock seemed to be tiring a bit and breathing heavy in the clinch in the second
Randy landed some solid shots which did not seem to phase Brock too much
Brock landed a nice elbow which wobbled Randy at the start of the second
The grazing 2 of a 1-2 that dropped Randy seemed awkward and the damage caused was more a function of Randy's head movement causing him to take the blow behind the ear
Randy ate a lot of shots before the ref stopped it, and was not out when the finish came
I think the notion of the pre-diverticulitis Lesnar frate trane somewhat overblown, and the deficiencies in Lesnar's game before surgery were similar to the ones after. In his top control he often failed to establish position properly, he was not as unstoppable at getting TDs as many play out and his GnP is not as devastating except for against guys who will not move and work to get up on the bottom. While the win over UFC 91 Couture was still an impressive performance, I think the steamrolling of Mir was more a function of a poor stylistic mismatch for Mir than Brock's devastating top game.
What do you guys think? Would Brock have handled Cain in the TD department prior to his surgery and the UFC91 performance mainly due to a factor of Randy being a stellar Greco wrestler? Did Brock's ability to take punishment decline from before surgery to after? Or was it Brock coming up against tougher competition instead?