From http://www.comicbookresources.com/article/evans-atwell-witness-marriage-proposal-at-salt-lake-comic-con
When the time comes to propose marriage, odds are you want it to be a memorable event for all the right reasons. And if you're a couple that enjoys cosplaying as Marvel's movie heroes, there's probably no better place to propose than in front of two genuine Marvel superheroes. That's just how one Captain America cosplayer popped the question to his Black Widow girlfriend at Salt Lake Comic Con this past weekend.
While getting their picture taken with Chris Evans (a.k.a. Captain America) and Hayley Atwell (a.k.a. Agent Peggy Carter), the cosplayer got down on one knee and surprised his Black Widow -- as well as Evans and Atwell.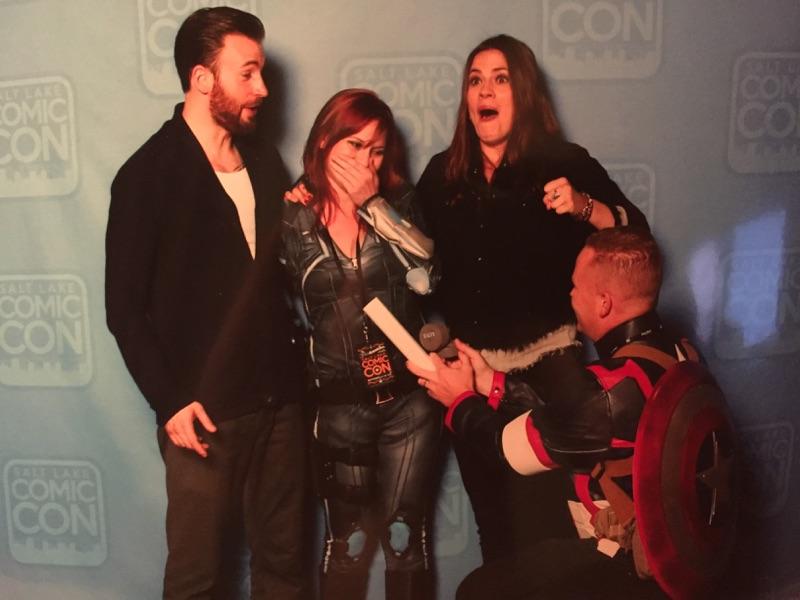 Hayley Atwell ?@HayleyAtwell
Today at #SLCC15 in the middle of a photo op with Chris and I, a man got down on his knee and proposed with a ring to his girlfriend.
Hayley Atwell ?@HayleyAtwell
It was one of the most moving and beautiful things I have been witness to. Congratulations to you both. May you have a blissful future xx
Chris Evans later tweeted about the positive experience he had at the convention, saying that he "had the most amazing time at #SLCC15. I've been to a few conventions before but I've never had the opportunity to interact with the fans on such a personal level. They shared some wonderful stories that I was honored to hear. I'm filled with a overwhelming sense of gratitude. Thank you to all of my loyal, sincere, loving, and passionate fans from the very bottom of my heart. You've reminded me how gratuitously lucky I am. #weareallconnected"
This engagement story caps off a successful weekend for Salt Lake Comic Con, which ended up being a record-breaking convention. The convention is now in the Guinness Book of World Records for the "largest gathering of people dressed as comic book characters" with the tally of cosplayers reaching 1,784.