I don't know whether to laugh or whether to cry.
Oh wait, yes I do. BWAHAHAHAHAHAHAHAHA!
As if the fact of what he did and seeing the pictures isn't funny enough, he says this.....
"Well, after 3 days of working on my scalloped fretboard i did perfectly from the 9th fret up. But between the 1st and 8th fret, i think i might've messed up. Is this neck still playable? Here's the pics..."
MIGHT have messed up???....hahaha.
LOL
BWAHAHAHAHAHAHAHAHAHAHAHAHAHAHAHAHAHAHAHAHA!
GASP FOR BREATH WITH TEARS ROLLING DOWN MY FACE
BWAHAHAHAHAHAHAHAHAHAHAHAHAHAHAHAHAHAHAHAHA!
BWAHAHAHAHAHAHAHAHAHAHAHAHAHAHAHAHAHAHAHAHA!
I'll post pics of my scalloped neck guitar by tomorrow.
The responses to that guy's post were pretty funny, too.
Sure, they might have been a little mean, but considering the guy seemed to be serious, it probably made it irresistable.
But hell, watch out....this might only be the beginning. He might one day get the brilliant idea of attempting to turn his Gibson SG into a hollow body.
"Gibson SG into a hollow body."
begins scribbling furiously in notebook
Did he use a chainsaw for that masterpiece?
lol..thats almost as horrible as my fretless bass i "made" when i
was like 13...haha......
You just know that someday there will be a huge world disaster wiping out most of civilization and that 200 years from now this neck will be the only evidence of guitars found by researchers and they will all snicker and laugh..
Here's my scalloped guitar: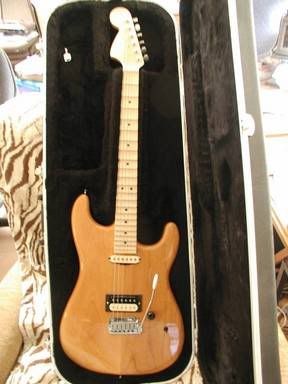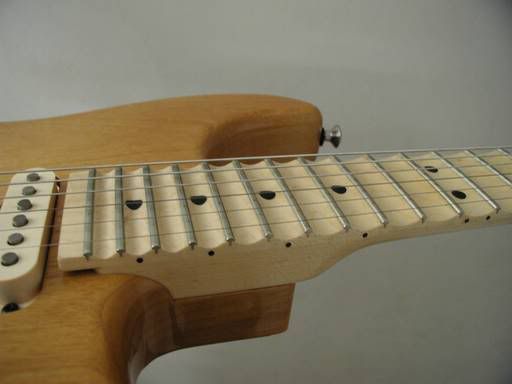 It's a Warmoth neck and a Performance Guitars body(alder) with a Duncan JB model bridge pickup and DiMarzio HS-3 neck pickup. Sperzel locking tuners and Fender American Strat bridge. I love this guitar! Loud, bitey,this is my "cut through the mix" guitar. The Razors Edge!
DOH! Forgot to resize again!
By the way, that scalloping job on my guitar was done by Warmoth guitars,the makers of the neck. I have done scalloping on set neck guitars before, but if someone wants it on a bolt on neck design, it just makes more sense to buy a Warmoth neck. That way if you decide against it,it's reversable.
Nice work, whew. What does it feel like to play a scalloped neck?
I like it, but it takes getting used to.
Unfamiliar chords can be a bit out of tune due to uneven pressure,I have to control my vibrato otherwise it's easy to go a bit over board. On the other hand, tapped notes jump out much easier, and strings feel lighter than on other guitars.