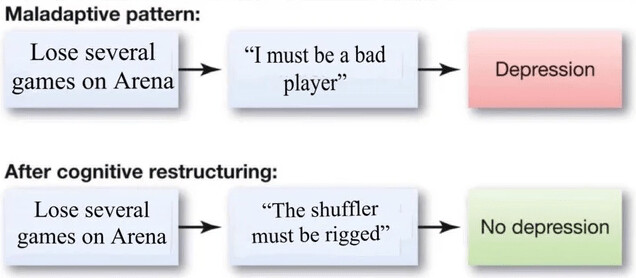 It would be nice if the shuffler just made it, I don't know, random?
So today I went on a good run of 8 wins and 1 loss. I'm back up to Gold Tier 1. But my last 3 matches have all been against Shrines.
Fuck Shrines.
Made it to Diamond! What a pain in the ass.
Annoying tactic of the day:
Red constantly killing lands.
I had built a land destruction deck but got rid of it. It's such an asshole strategy
Holy Crap… so I've been playing a variation of the Dimir Zombie deck in Explorer Ranked. Typically, once I hit Platinum Tier, I stop playing my most successful consistent decks. My Explorer variation of the Zombie deck isn't quite hitting on all cylinders, but I digress…
I just faced a deck that is new to me. It was a spectacular beatdown that was handed to me. Rakdos with Kroxa, Shakedown Heavy, Rotting Regisaur, and Colossal Plow…
Shrines are for little dicked neck beards
I have admittedly just built a Shrines deck with Mirror Box as a "fuck you" to everyone. Mirror Box causes your permanents to ignore the legendary rule, so I can double up my shrines without penalty. But it's such a cheap fucking way to win…

Mirror Box, you say?
OK, WTF? I just played a guy that kept dropping PW's, 5 in total. All of them came locked and loaded with 10 points ready to spend? The hell is that shit?
Do you remember what cards were in play? Which planeswalkers they were? There are certain crazy assed cards that allow you to drop all kinds of shit onto the battlefield