called it. next stop, charges dropped.
Lol at dude calling gun nuts crazy
I worked at a pretty big lower level schitz facility for a couple years and there were quite a few mammoth people that would come through there, and yeah, they're so unpredictable you have to consider that they could go full serial killer at any moment sometimes.
Zero remorse & zero care.
On the plus side, he doesn't seem stupid af.
But if his career/relationship goes south or he finds religion all bets are off.
Probably a great idea to let them have their racial identity and fortify it with explicit anti White ideology, media and pseudo science.
I was talking about schizophrenics there. Blacks are just 3x more likely to fall under those conditions.
Seems like a well adjusted balanced good guy.
The news media carrying water for this piece of shit. I guess I shouldn't be surprised.
He's a hero. Black kang battling the oppressors!!! Let freedom rang kangz!!!
McDonald's 'ax man' Michael Palacios reveals why he carries hatchet over gun, says he's not 'unhinged'
By
Reuven Fenton and
September 19, 2022 12:12pm
Brain-dead woman gives birth to miracle twins
Close
The accused madman who flew into an ax-wielding rampage at a Lower East Side McDonald's told The Post on Monday that he's "not unhinged" — and just did what anyone would do in his situation.
Michael Palacios, a 31-year-old Manhattan messenger, said his ax-capades were all about trying to scare the McDonald's patrons who punched him during a beef early Friday — as he also shared his philosophy on why he prefers his "tomahawk" to a gun.
"Think about it. If you only think that the thing you can protect yourself with is a gun, we're all going to go to f–king jail," he said. "With a hatchet, I have my options — throw it or just smash a f–king table. With a gun, all you do is shoot.
"I'm not unhinged," said the man, who was released without bail under the state's controversial bail reform laws.
Michael Palacios, 31, who was arrested after a viral video captured him wielding a hatchet during a fight.
KEVIN C DOWNS
"I'm not psychotic. I just did what anybody would do when being pummeled. What would you do? Take out your phone and call 911?
"I'm not a loose canon," Palacios insisted. "I don't think just because I'm angry and going through some s–t, I'm going to hurt other people. … People are saying, 'Oh, these guys are lucky.' It had nothing to do with luck.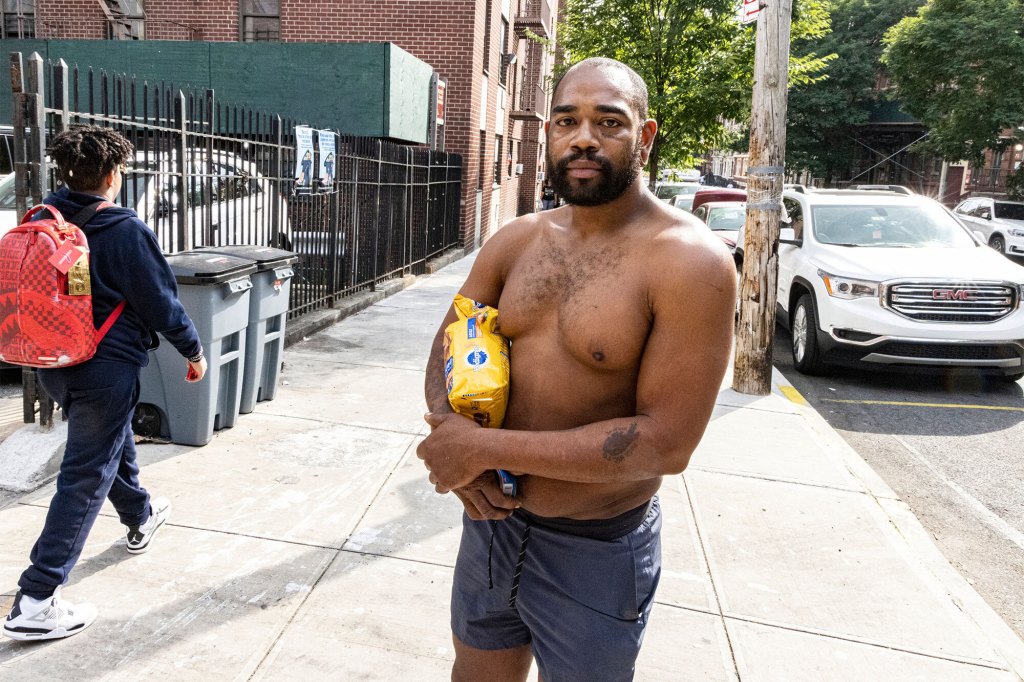 Palacios defended his actions, saying he was just reacting to the situation, like anybody else would do.
KEVIN C DOWNS
"It's not luck that they didn't get chopped up. I didn't chop them up because I didn't want to.
"Everybody's talking about how I should be in jail," Palacios said. "I did my 18 hours, bro. What else do you want? Why do I have to be in jail? I'm not going to make it a race thing just because I'm big and black.
"It's New York City," he said. "I've been here for a long time, and there's always been crime. I got hit in the head with a hammer at that corner like 10 years ago while I was walking to the store. Some random dude.
"My intentions were not to hurt anyone," Michael Palacios claimed.
Instagram/@ontheblockwithsoho
"So, 10 years ago, somebody got hit with a hammer. Today, somebody hit a table with a f–king hatchet. I think things are getting better, if you ask me."
Cellphone footage from the rampage inside the Delancey Street fast-food eatery shortly before 2:30 a.m. Friday shows Palacios trying to talk to a woman in the restaurant.
An Uber Eats driver who shot the incident on his cellphone said Palacios grew angry when the woman "rejected" him.
But Palacios said that's not how it went down, claiming the violent incident stemmed from an argument with a patron after a security guard at the eatery refused to let him use the bathroom.
"I'm like, 'Yo, bro, c'mon. Open the bathroom,'" he said. "And then I hear, 'You, you don't have to be mean about it.' I'm like, 'Shut the f–k up.' I didn't even look back. I just said it, and then it all became, 'Oh, I'll slap you.' I'm like, 'Where are you gonna slap me?' And that's when I came at the guy with the black tank top.
"And eventually I just got tired of three dudes backing me up, and I just slapped one of them. It had nothing to do with attacking women," he said. "The woman had no issues. I had no issues with the woman."
But three patrons jumped him and pummeled him with punches — even as he appeared to remain calm, according to the Uber Eats driver and video.
"I showed composure. People just see blankness, but I was thinking," Palacios said. "I was processing. You ever download a program and the Apple sign spins? That was me processing."
Palacios then pulled out the ax and smashed up the restaurant.
PREVIOUS
1of4
NEXT
Cellphone footage shows Michael Palacios trying to talk to a woman in the restaurant.
Twitter/@McgooShakes
Michael Palacios pulled an ax out of his backpack.
Twitter/@McgooShakes
Michael Palacios said he was trying to scare the McDonald's patrons who punched him.
Twitter/@McgooShakes
Michael Palacios said he carried the ax in his backpack because of his job as a messenger.
Twitter/@McgooShakes
"I wanted to intimidate them," he told The Post. "Also, I wanted to show them that the hatchet was real. It's not a toy.
"Nobody trains for this," he said. "The average person doesn't train to fight off three people. I'm just lucky, I guess, that I drink enough water, and I do enough pushups to fend off three young adults. I'm just a regular guy. No military training."
Palacios said he told the woman during his rampage, "Don't be hanging out with punk-ass dudes because they're going to get you into problems like this.
"And after that, I shook her hand," he said. "I understood it was a very intense situation, a lot of drama going on."
SEE ALSO
[
Ax-wielding madman runs amok in NYC McDonald's — and nobody was lovin' it
](Ax-wielding wingnut runs amok in Bronx McDonald's)
He said he was already irked after losing his job at a local brewery earlier in the day "for tardiness," and called it "a tough day overall."
Asked why he had the ax stashed in his backpack, Palacios said he enjoys camping but learned to carry it after getting attacked in the past.
"I got jumped once in Chicago, and I told myself I was never going to let that s–t happen again," he said. "Honestly, I just randomly picked it up at Home Depot a couple of weeks ago. It was still in my bag."
941
What do you think? Post a comment.
Palacios left the restaurant on his bicycle after the Friday morning incident — but was arrested by cops nearby on Ludlow Street.
He was arraigned on charges of criminal mischief and weapons possession late Friday and released without bail, Manhattan prosecutors said.
he's just a misunderstood guy.
So he had no issues with the woman who he cornered and yelled at while everyone was cowering in fear. It was all about the going to the bathroom.
The media makes me sick how they carry water for this piece of dog shit.
So no big deal he destroyed someone's business because some dudes tried jumping him that had no affiliation with said business.
Lolol what an article…. Dude seems to have one foot in & one foot out of reality. He gives his reasonings like they are totally normal & what any sane person should do. You can see his reasoning & how shit's miswired in there. But, fuck it, he served his 18hrs lol. I think we'll see him again soon.
He is innocent. It's the whites that are guilty.
He's exactly the kind of guy who would've murdered people with a hatchet if things went a little bit further south.
Mother fucker looks 45, not 31.