My most recent interview with Minnesota fighter Brandon Girtz who trains at The Academy with coach Greg Nelson. Hope you enjoy!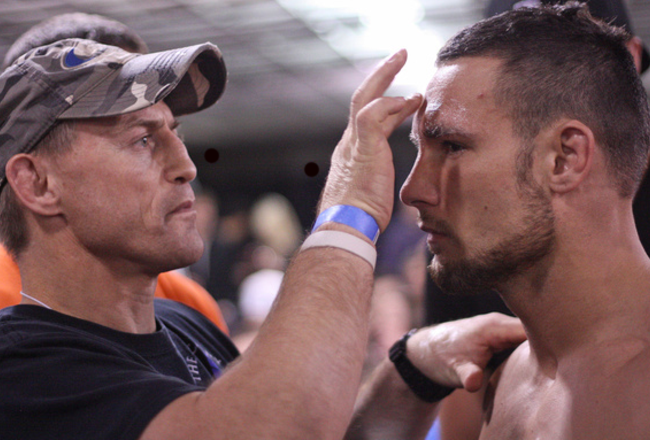 Minnesota MMA: TUF Hopeful Brandon Girtz Broke Arm, Not Spirit vs. Eric Wisely





MMA was alive and well in Minneapolis, MN this past Saturday night when local prospect Brandon Girtz fought Strikeforce veteran Eric Wisely in the main event of the Sterling Entertainment Group's Downtown Showdown.
The 150-pound catchweight bout bookended an excellent fight card, but the fight did not go the way that Girtz had hoped for or expected.
After controlling the contest for much of the first two rounds, Girtz's luck took an unforeseen turn for the worst when he blocked a head kick thrown from Wisely. Although textbook in defense, the thunderous kick from the Strikeforce vet broke Girtz's forearm upon impact.
"I felt it right away. I wasn't positive that I had broken it. I knew it was jacked up, but I kind of wanted to keep going and see what I could actually do," Girtz told Bleacher Report MMA after the event. "But when it was flopping around, I knew I wasn't going to be able to hit him like that, so I knew the fight needed to be stopped before I messed it up more."
After attempting to fight through the pain for about a minute, Girtz eventually called a stop to the fight. The frustration was evident on his face as he headed to his corner while Wisely celebrated in the cage.
"I feel like it was going my way. I don't feel like I was doing as well as I would've hoped to do, but I definitely felt like it was going my way," he continued. "He got me with that spinning back-kick in the beginning that kind of caught me off-guard. That pretty much did most of his damage other than the kick that broke my arm."
Though he feels like he was winning the fight, Girtz made sure to give plenty of credit to his opponent for his unique fighting style as well as the power he put behind the kick that ended the fight.
"He got a good win. He got a kick that broke an arm, I mean, that's pretty crazy to me!," he exclaimed. "Hats off to him, that's pretty nuts."
Surgery was required to repair the broken arm which will now be placed in a cast. The estimated time that he will be able to return to training is four to six weeks.
There's never a good time to break a bone, but for Girtz, the timing could not have been more unfortunate. The lightweight prospect was set to travel to Las Vegas the following weekend try out for season 15 of the UFC's hit reality show The Ultimate Fighter.
"I was really looking forward to the tryouts this Monday," he said. "That was the plan. I was going to fly out there with another teammate and tryout for this one. But it's a little tough now that I have a broken arm [laughing]. We're still going to try to see when the actual air is and try to see if I can send in a tape and at least try, but this arm put a little damper on all of that."
A broken arm may prevent his immediate ascent into the top MMA promotion in the world, but this young fighter is not letting his unfortunate situation get him down. He's also not looking to pad his record against easy opponents when he does make his return.
"I want another tough fight," he bluntly stated. "I'm trying to prove myself."
Perhaps a rematch with Wisely would make sense given the somewhat fluky circumstance of the ending of their fight. Though Girtz admits that the rematch intrigues him, he also understands that the fight may not benefit Wisely much at this time.
"I don't know what's in it for him right now," he said with a laugh. "But if he wanted a rematch, definitely. It was a good fight, but I definitely feel like I would've had the advantage if it would've kept going. I can't say I would've beat him in a decision. Do I think I would have? Absolutely. I might've finished it if [the broken arm] wouldn't have happened."
Time will tell when and whom he will step in the cage with, but with an attitude like his, the will to win that he possesses and the top-level team he works with at coach Greg Nelson's gym "The Academy," the sky is the limit for Brandon Girtz.
Special thanks to Sandy Hackenmueller of Fight to Finish Photography.