mike:
control panel

display

desktop

select "stretch"
Sure thing, 4 Ranges.
Greb was a dead game fighter who ducked nobody.
Back then, it wasn't uncommon for white fighters to duck black fighters. Harry Greb fought everyone, from welterweight to Heavyweight. Here's a pic of a middleweight champion, Tiger Flowers, whom Greb thrashed. Flowers was a machine:
He is usually credited with having fought 299 fights, but I've seen the count as high as 540. He fought all the time. He died soon after his boxing career ended by reconstructive surgery on his nose - a true pug's mushroom nose split across the middle.
He fought and defeated Mickey Walker, Tommy Burns (to win the Middleweight crown), Gene Tunney (a light heavyweight king who decisively beat Jack Dempsey), Tommy Gibbons (the heavyweight contender for Dempsey's crown), Battling Levinsky, Gunboat Smith (heavyweight) and many others. He was blinded in one eye by a thumb from Kid Norfolk, a bad-ass black fighter who nobody else wanted to fight. Norfolk said that Greb tried to thumb him, so he thumbed him back. Asked about it, Greb wasn't sore. "He's got a better thumb than I have" Greb quipped. Greb avenged the loss.
Pic of Kid Norfolk who outweighed Greb by twelve pounds:
For those who haven't, I strongly suggest you do NOT "FRAT" that chapter from Gene Tunney's Book, A Man Must Fight. I cannot imagine a serious fight fan not dropping his jaw at the fortitude of Gene Tunney.
4 Ranges,
Hey man thanks!!! I'm a little embarrassed it took me a while to find the control panel, but it works like a charm. Thanks again man.
-Mike
rastus - good job, thx man. ttt
Most lists of the best middleweights ever I've read have Grebb (I thought it was spelled with two b's?) at the top.
He was like the sakuraba of his time. Fought guys twice his size (he even tried to get a fight with dempsey), lost his share of fights but beat a lot of top fighters too, and lived hard, one writer I read said he trained on "whiskey and whores."
He's the classic "old-timey" fighter IMO, love the guy.
My pleasure, Giorgos. I know I enjoy fellow forum brother's contributions to historical threads, and it's been a while since I've posted my own.
I've read his real name was "Berg", which he reversed so-as not to be thought of as a Jew.
On the blinded eye:
Atlantic City, N.J., Oct 26.1926 - Dr. Carl S. McGivern, personal physician for Harry Greb, former middleweight and light-heavyweight champion boxer, who died here following an operation last friday, today broke a five-year silence and issued a statement to the effect that Greb had been stone blind in his right eye for that length of time and had carried a glass eye since August of this year. His formal statement follows: "Harry Greb was made blind by a blow on his right eye during a fight with Kid Norfolk, negro heavyweight, in New York City in 1921.
---
"It was in 1921 that tough Kid Norfolk rammed a thumb into Greb's eye. The next day Greb complained of seeing lights of many colors. They were the last things he'd ever see with the injure eye. He had suffered a detached retina, did nothing about it, and lost half his sight."
---
***EDITORS NOTE: Harry Greb never took time off of boxing after this Kid Norfolk fight. He continued his regular boxing schedule and fought Chuck Wiggins 6 days later in Virginia. He continued the rest of the year as scheduled. Does that sound like someone who recieved a detached retina? On the otherhand, a retinal "tear" causes the person to see flashes of light that Greb is documented as experiening. It sometimes takes days, weeks, months or years for a "retinal tear" to develop into a full "retinal detachment". These signs can occur gradually as the retina pulls away from the supportive tissue. In my opinion, the Kid Norfolk fight was the initial trauma that precipitates retinal detachment.
Think about that third comment - six days later after a friggin' barn-burner with Kid Norfolk, Greb with a detatched retina is back in the ring fighting.
here's a brief account of the Kid Norfolk fight from a website devoted to Kid Norfolk:
It was in the summer of 1921 that Norfolk got his first real break when he was matched up with Pittsburgh legend Harry Greb. The fight itself was a torrid affair, with both men giving and taking tremendous amounts of punishment. The Kid outweighed the mighty Greb by twelve pounds but the Steeltown crowd gave the "Human Windmill" his own kind of advantage. Norfolk floored Greb for a six count in the first and gave him quite a beating over the first few rounds. Greb fought back as only he could and took the fight to his heavier foe in the middle rounds. Norfolk's greater strength seemed to be the difference in the closing rounds and he "cut Greb to ribbons in the final frame". The newspaper decision was Norfolk's but it did him little good. He continued to call for Dempsey but the Manassa mauler had a long list of challengers, many of whom meant a bigger payday with a smaller risk. But Norfolk was convinced that he could beat Dempsey and that all he needed was to get the champion into the ring with him.
Hey, what's up, Shane?
For Kevin Curtis: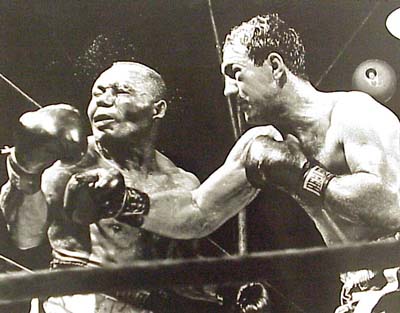 Damn! I've never seen that pic before, Kevin, and I've seen alot of them.
Awesome pic!
Nice pick of mr. Jack Johnson, RuleDogg!
Kevin Curtis,
WOW, great shot!!! And since I was actually born in Brockton, MA, this one is now my official #2.
Rocky's is my choice for the best punch caught by the camera. The focus and reaction are pure gold. The thing I like about the Ali shot is the emotion and symbolism displayed.
Either way, both incredible photo's and framed pictures I shall soon own. Thanks for the great pic of the Rock and Jersey Joe!!!
I've got a picture on my office wall of Sugar Ray Robinson vs Carmen Bassilio that's fantastic: Ray just missed shooting an uppercut, while Bassilio is crouched and looking up at him. Robinson has a snarl on his face - both men's eyes are locked on each other, even though the position is a bit awkward.
I'll see if I can find it.
A Victor Torn, if you find the pic, I'll post it.