That's awesome. Didn't realize that "Diary of a Madman" intro is in 17/8 time (9/8+8/8). I guess that's what Ozzy was complaining about the music for this record being "too progressive" lol. Randy sounded so great live (unlike many other players at that time…or even now).
It's pretty crazy hearing the Bob Daisly stories. Also how he basically "helped" Randy craft the licks into songs. Guess we'll never know the real story behind some of the things that went on.
If you haven't checked out the classical composer's reaction video at the top of the thread give it a watch i think you'll enjoy it
That's cool, I've seen his videos as a suggestion, but I've never watched any of his vids before.
It's a strange drum pattern for 7/4, he's right about the syncopated 2nd half of the pattern, not the traditional 7/4.
Ha, I was right 17/8, lol
Bob Daisly really was underrated and was the glue for both Randy and Jake E Lee in songwriting, helping them turn their guitar licks, into full songs (according to him).
I bought and read Daisley's book primarily because i was interested in the Blizzard of Ozz stage of his career.
It was an interesting read. The guy has played with a lot of outstanding musicians, including Garry moore, ritchie blackmore, and of course randy.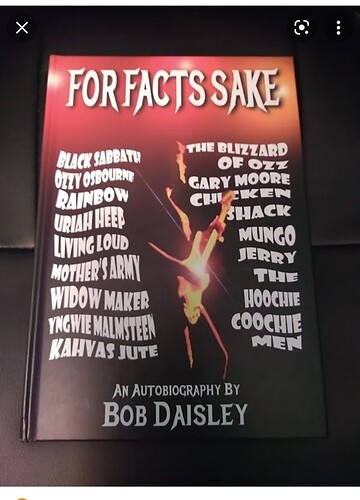 Nice, was really curious about that book. I saw some of the interviews he did about it on YouTube, sounds really cool.
Ya now that I've finished it – it was the last one i read – I'm going to watch some of his YouTube interviews
One thing I learned from the doc was the DuBrow interview where he said that Randy was a rock and roll guitar player first, then later studied classical guitar. I thought he always had that classical background (growing up in a musical environment).
This is a picture from the Rudy Sarzo book, "Off the Rails" Randy, Rudy, Ozzy and Sharon. Randy is looking at the phonebook trying to line up a classical guitar lesson with a local teacher from whatever city they were in at the time.

That's so awesome, great pic!