https://www.popsugar.com/food/Ree-Drummond-Casserole-Recipes-42862782
The Pioneer Woman's Most Popular Casseroles Will Inspire You to Cook
You know you can always count on the Pioneer Woman for easy and delicious recipes. Some of Ree Drummond's most popular recipes are her casseroles, and it's easy to see why: these one-pan wonders are layered with flavor and guarantee that dinner gets on the table fast. If you're looking to get out of your dinner rut or desperately need some inspiration to cook, look no further than Ree Drummond's top 14 most popular casserole recipes from Food Network.
---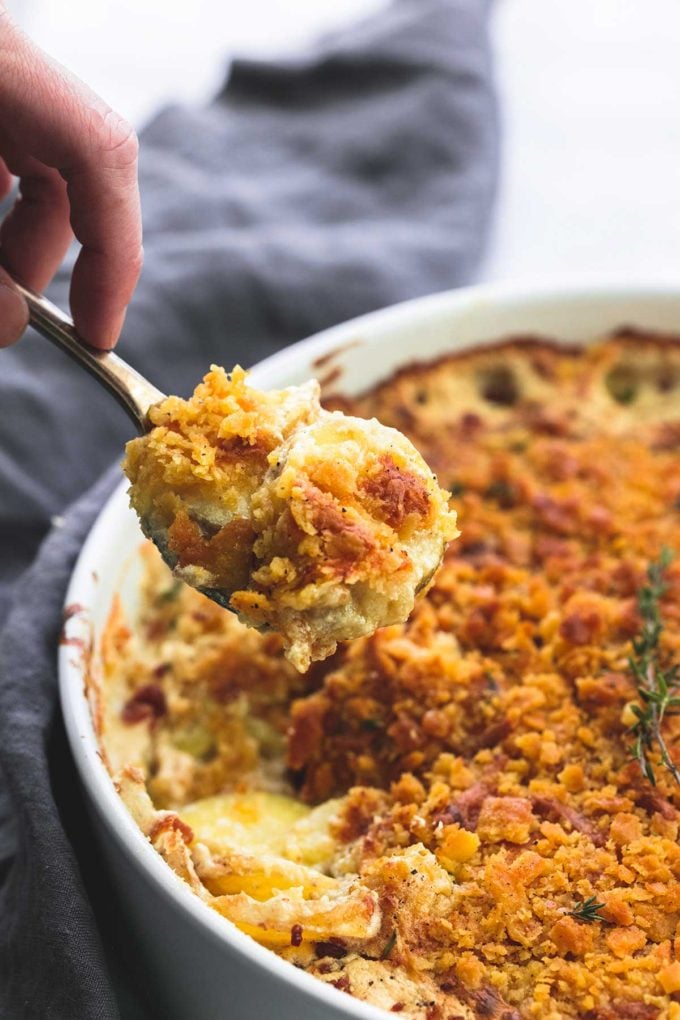 Funeral Potatoes
Preheat the oven to 350 degrees F. Grease a 9-by-13-inch baking dish with 1 tablespoon of the butter. Take the potatoes out of the freezer while you are preparing the rest of the ingredients.
Heat a large, deep skillet over medium-high heat, then melt 6 tablespoons of the butter in it. Add the onions and cook, stirring occasionally, until the onions start to soften, 3 to 4 minutes. Sprinkle the flour over the onions and stir to incorporate. Cook for a minute or 2 to cook out the raw flour, but do not let it color. Whisk in the milk, making sure to get out all the lumps. Add the broth and whisk again if there are still lumps. Bring the mixture to a simmer and allow it to thicken, about 3 minutes. Season to taste with salt and pepper. Turn off the heat and stir in the Monterey Jack, sour cream and Cheddar. Add the hash brown potatoes and mix everything together. Transfer the mixture to the prepared baking dish.
Melt the remaining 1 tablespoon butter in a small pan. Put the potato chips and Parmesan in a bowl and crush the potato chips. Pour in the melted butter and toss to coat. Sprinkle the crumbs over the top of the potatoes.
Cover with foil and bake for 20 minutes, then remove the foil and continue baking until golden brown on top and bubbling around the edges, about 15 minutes more. Let rest for 15 minutes before serving.