congrats Po'ai.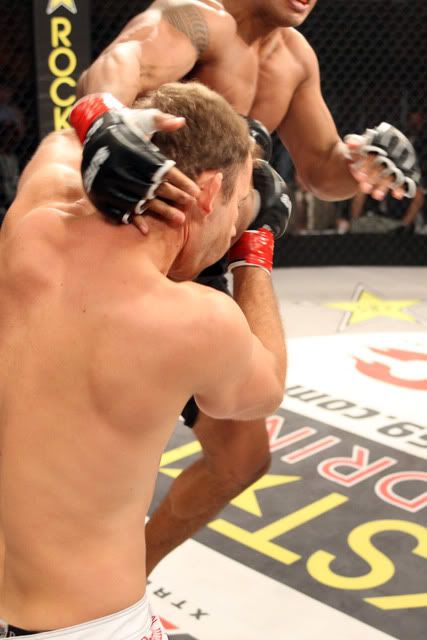 isnt that Brian Warren's boy?
Early stoppage.
Po'ai probably would've finished Jared, but Jared should've been given a chance at least try to defend himself.
TTT for a future rematch:) Congratulations to Po'ai for his win and for being a classy fighter and individual. Hope to see them fight again and no matter what Elite Fight Company is proud of Jared Hamman and Luke Riddering.....
It was a bad stoppage, BUT the ref was stuck in a bad position. When Jared hit the mat he was OUT. Take a look at his arms and his eyes. That's when the ref moved in. The thing is, when he hit his head on the side of the ring, he woke up. It was a flash KO, but he was literally fine. In boxing he would've taken a standing 8 and moved on. Too bad the ref was already there.
I actually think it's similar to what happened to both Karo and Houston on Wednesday. Flash KO's where the ref sees them out and reacts...but by then they've pretty much woken up.
It's not identical, but it's a similar situation. Jared was still out while the ref was pushing Suganuma away. They got tied up and the ref was VERY slow in tying up Suganuma.
Houston was out from the 2nd punch, but the bounce off the mat woke him up. I was there - he moves very "herky jerky" on the mat, but he was up and bouncing around instantly.
Once the ref has started grabbing a guy and pulling him off - that's it. You can just stop and say you're sorry. What if the other guy decks him while you've restrained him. The ref moved in basd upon Jared's eys going blank, his knees folding, and his arms collapsing like they were broken.
It sucks, but that's MMA. If you don't make stoppaged like that, you're going to have a lot of guys eating giant shots while they're unconscious in a pile.