Well I got there a bit late and only saw the last 5 figths.
and the winners are Neal Berry, Dan Chambers, Kevin Manderson over Jordan Mein, Justin Tavernini , Jason Day over Scott Arnold
here is a photo of the after party, Kevin "the Mongoose" Manderson looks more like a Raccoon!!!!!!!!!1
Kevin shoot me an email otis666@hotmail.com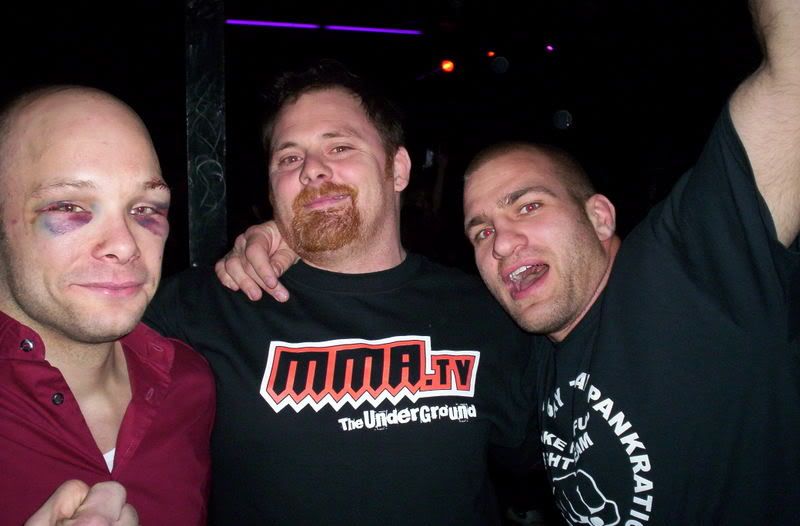 Jesus Skipper, I'd hate to see the other guy
If I remember correctly, every fight went less then a round.
I can't remember all the fights, and if I get something wrong sorry. I think there were 11 fights all together.
Kevin Olson beat Syzmon Rusnak --
Tim Smith beat Tyson Larone --
Dwayne Lewis beat Jordan Murray --
Neil Berry beat Jesse Loyer --
Dan Chambers beat Joel Jackart --
Kevin Manderson beat Jordan Mein --
Justin Tavernini beat Clint Godfrey --
Jared Kilkenny beat Marcus Hicks --
Jason Day beat Scott Arnold
Thanks everyone for coming out to our New Years Eve, "Season's
Beatings" show. I will post later when I find out when this will be
shown on The Score.
Mike Richardson (A-Team, Edm) won over Logan Dukes (fort McMurray)
by tapout at 3:08 of round 1 - Triangle choke
Kevin Olson (cmc, Leth) won over Szymon Rusnak (A-Team, Edm) by
KO at 18 sec of round 1
Tim Smith (A-Team, Edm) won over Tyson Larone (edm) by ref
stoppage at 4:54 of round 1 - TKO due to strikes
Dwayne Lewis (Bowman TKD, Fort McMurray) won over Jordan Murray
(cmc, Leth) by TKO due to strikes 33 seconds of round 1
Billy Buekart (Bushido, Saskatoon) won over James Scott (Canuckles,
Calgary) by tapout at 26 seconds of round 1 due to guilliotine
J-rod Kilkenny (cmc, Leth) won over Marcus Hicks by tapout at 38
seconds of round 1 due to ground and pound
Neil Berry (cmc, Leth) won over Jesse Loyer (Yukon) by TKO due to knees at 2:35 of
round 1
Dan Chambers (cmc, Leth) won over Joel Jackart (Team Caution, Red
Deer) by TKO due to strikes at 1:02 of round 1
Kevin Manderson (Winnipge) won over Jordan Mein (cmc, Leth) by
tapout (RNC) at 4:14 of round 1
Justin Tavernini (cmc, Leth) won over Paul Eberjer (Banff) by armbar at
32 seconds of round 1 - This fight started with both fighters
extending their hands to touch gloves and Paul immediately pulled
back as a fake and swung with a spinning back fist. He landed it, but
Justin immediately regained composure and won the fight. Eberjer was
booed and left the ring before the fight was announced. Guess you
gotta be careful when touching gloves???
Jason Day (cmc, Leth) won over Scott Arnold (UGC, Montreal) by armbar
at 1:44 of round 1
I would like to thank all the fighters and coaches for making the trip to Lethbridge for our 21st Rumble.
I am definately calling Manderson's fight the "Fight of the Night". Kevin showed some real toughness and Jordan Mein showed he is going to be a contender in this division.
For those of you who were not there, Paul Eberjer, who fought Justin Tavernini, wins the "Cheap Shot of the Year" award, possible the cheapest shot to have ever been thrown in an MMA fight. That spinning backfist he threw when they were supposed to be touching gloves was the dirtiest thing I have ever seen. Preliminary reports from the paramedic is that Houdini broke Paul's arm though. So once again Justin showed what a great chin he has. Not only did he recover but he threw on an armbar and tapped his cheapshot throwin ass out.
Jay Day also gets to show how far he has come with a very impressive win over a well known Scott Arnold. Jay wins with a traigh armbar from side mount. Thanks again to Scott and Cleary for makin the trip and stepping up for our main event.
It was great to see everyone and I am sure I will be seeing you all soon. Happy New Year and thanks again.
Alan Sabey
I'm glad the card went well! Keep it up RITC!
Yea definitely had a good time in Lethbridge.
Was our first time down for a RITC card, kinda long trip from Edmononton but it sure was an exciting and very professional show. I liked the venue, nice ramp and screen, great enterance music, cage was cool looking, very good reffing I would say. Also VERY NICE ring girls, both were hot, especially the brunette I thought DAYAMN!
Fights were super exciting and finishes were great, I was glad that cheap shot dude got arm barred quick by Tavernini, that was some BS he pulled at the start. Glad Tavernini didnt looked hurt from it.
Manderson vs Mein was great, Mein was just giving it to Manderson standing, till a takedown and Kimura attempt by Manderson swayed the fight his way and he subbed Mein. Great experience and heart shown by Manderson, Mein was FAST and showed TONS of potential.
J-Rod looked real good at 205, nice broom sweep to get mount and pound out the victory.
Torture Chambers, what can I say... I love that guy!
Jason Day, I think Doomsday should get his shot at a UFC Ultimate Fight Night card, his last 2 performances have been fantastic. Lately, he's been all business in the cage, seems meaner lately. His sub of Arnold was just mean. Looks like it hurt.
It did!
haha first class promotion all the way though. Disappointing result for me but a very entertaining card. Congrats to Jason Day and thanks to everyone in Lethbridge for treating us so well.
Scott Arnold
Phuck that Mein kid hits hard!!! Thanks to Lee and Alan for bringing me
out for the show. We had a great time in Lethbridge. I would love to
come back any for your next show. That is after my stitches come
though!! Lol!! First class promotion all the way. Crawford and
Kulkster......you guys are G-HEY!! Thanks again,
Kevin Manderson.
P.S. I look like Donatello from the TMNT for phuck sakes!!