I'll take ion, even though he seems more bark than bite
Tremendous work as always @Card
He's entertaining as fuck though.
Cutelaba looks like a villain in B movie.
Man Spann has zero takedown defense but nice sub
I'm not unhappy to be wrong
Cuntelaba blows every chance he gets. fuckin slop ass shit that sucks without his steroids
How the fuck was Ion the favorite
Spann just talking in his post fight how he needs to continue to work on the mental aspect of his game. Said he's gotten in his own way in his losses.
Cutelaba is too dumb and wild to ever be good
He's always the favorite I feel like
Ion fought like a free radical
Can't you just be nice? He gave the MMA world the best weigh in moment since Reebok ruined Tom Lawlor's weigh in performances.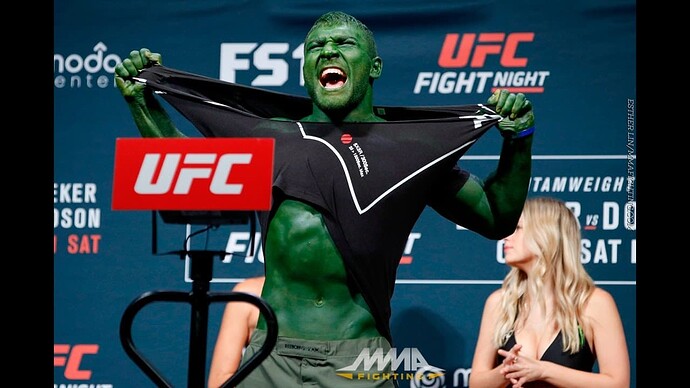 Pretty stupid and gay honestly. Just go do your fake weigh in and be a showman in the cage. If anything doing antics like this and blowing the fight makes it even worse. He thinks he's better than he is and honestly he's not even top 30 in the division.
I've seen the hulk movies and even he doesn't make himself fall down from throwing a punch.
Did he really dye his body, I thought that was a photoshop
That guillotine was the shit