It would depend of the version of both, SF5 Sagat would maul Goro.
SF 2 Sagat would lose.
I started out as a Ken player and then switched to Ryu. Admittedly, I switched because as the series went on, they diverged a little and Ryu was stronger than Ken. I also think that the older I get, the more I prefer Ryu's disciplined nature, his humility, his zen, and his respect for his opponents, over Ken's flashy style and his presumably inferior work ethic.
I am a Ryu and Sagat guy.
330lbs? That is a serious freak.
Hed fight more like Ubereem IRL
See the thing is about that is that dude clearly is going by the Udon comics version of Sagat. Hes referring to the comic book size of Sagat(seen below) which Capcom has already said is Non-Canon. In the comics hes listed as 7'5" 330lbs.
In the actual canon sourced of the games (via Capcom) he currently 7'5 but only weighs 216lbs. In the latest game hes been slimmed down to be a more realistic (still hardly) looking Muay Thai fighter. At his biggest he was 265lbs.
Slimmer current Sagat
Bigger Sagat from SF4
If you are going to do a comparison on who would win it kinda throws out the credibility of your argument if you are not going to go by the actual canon info on a fighter.
Killer instinct was such a great game
I prefer the classic: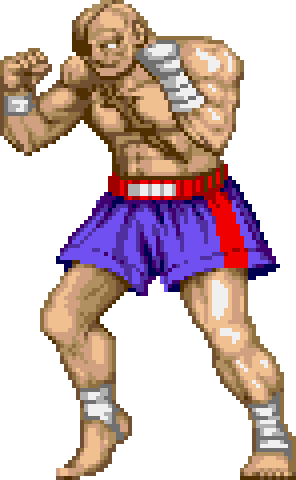 That's awesome
Check your local library. Most have a huge collection of DVDs and Blu Rays. I get a ton from there
Few I have checked out right now:

Death Battle did a TJ Combo vs Balrog video. As usual its utter shit as they have no idea what they are talking about.
Pfft it pretty much came down to a rock paper scissors argument for boxing lol.
Haha, and what's with the horrible expression on his face?
Lol its supposed to be him laughing as it's his classic victory pose. But since it's not moving it looks like hes in utter terror.
Goro is the stupidest character in Mortal Kombat. Even though Goro is clearly the more genetically gifted of the two characters, Sagat would pick him apart through superior strategy. Sagat hits him with a Tiger Knee from the outside and then uppercuts him into low earth orbit. Goro literally has nothing for him, he doesn't have the tools to deal with that kind of offence. What the fuck is he gonna do? If Goro didn't have 4 arms and weigh 400 lbs I don't even think he would qualify for the tournament.
Surely with Sagats long limbs, Goro would just grab an arm and tear it off…