When she first gets out she looks pissed someone would put a pool there.
holy shit
thank God there were no kids (or anyone) in that yard
The wipers being on was a nice touch
Lol at her first thought after it happened was she better put her wig on. Don't want to look stupid or anything.
Told my wife I found a good deal on an above group pool and showed her the video
on a positive note her car looks clean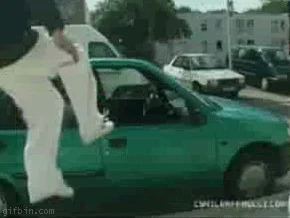 Should have put a "no diving" sign on that pool.
I told you to water the lawn. This yo' fault.
shes gonna kill her battery if she doesnt turn her wipers off
Her foot slipped so she dindu nuffin, plus that wasn't even her in the video anyway.
I don't swim in your driveway so DON'T DRIVE IN MY POOL!
Holy shit! She is probably only alive because of that pool. She certainly wouldn't be walking around if that pool wasn't there.
Haha. She managed to get it on just before the cops arrived.
Jesus Christ can you find a more annoying sound effect next time?