oh yes. yes he did.

ps. it's not a surprise that po'ai is the aggressor.

pps. "okay..." bwhahahahhaha great comeback line eva!
that was awesome.

i hear the rematch is in the works from my fellow ProElitists. i'm not trying to be a homer but - damn - Hamman was out cold. i dont think it was the worst stoppage ever. Hamman was legitimately in sleepy-land when he crumpled to the mat.
i think haynmatman can chime in on this about a ref's perspective on a fighter's eyes when getting ko'd. sadly, all the audience ever sees is just the guy bouncing back after falling.

how many times have we seen a ko'd fighter be able to make it to his feet and then stumble down or not keep his balance?

mma is different that way--many times you're not able to make it back to your feet as your opponent pins you down for further pummeling. if a ref thinks you're in that position, is he supposed to let you lay there--especially at the 205# level--and let you get smashed?

if left solely up to me, i'd say yes, but for safety sake--probably not.
ps. a rematch would be an insane waste of time for the xc guys and also po'ai. i thought they were smarter than that?
congrats Po'ai.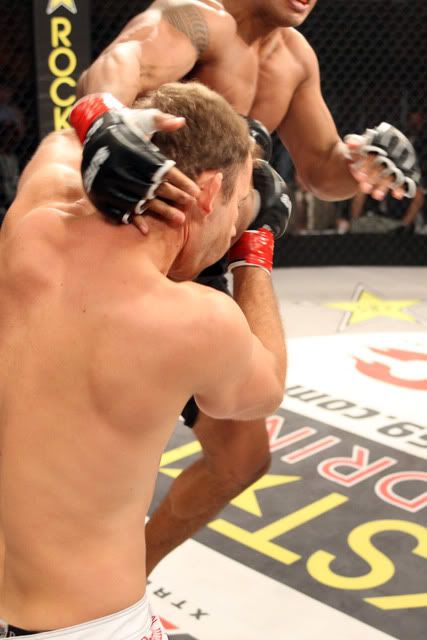 Po'ai,
Omedetou.

Yokudekimashitta.

YokuSMASHUshimashitta.
Tommy just emailed me these!
"if i don't remember it, it never really happened?"
here's a few more Tom took tonight:
Congrats Poai! I say review the tape and consult the ref. If the tape does not clearly show that he was out or majorly rocked, you have to go with the ref that was probably 2 feet from that action as the best decision maker if the fight should go on.