Former rap impresario Marion "Suge" Knight and comedian Micah "Katt" Williams were arrested and charged Wednesday after allegedly stealing a camera from a photographer in Beverly Hills last month, officials said.

Knight, 49, and Williams, 43, were each charged with one count of robbery in connection with the Sept. 5 incident, the Los Angeles County district attorney's office said.

Knight was arrested Wednesday in Las Vegas; Williams at an Inglewood court house where he was due for an arraignment in a separate assault case.

Beverly Hills police Sgt. Max Subin said the investigation began Sept. 5 after Knight and Williams walked out of a studio and came across a photographer.

The pair allegedly chased the woman down an alley, where Williams grabbed the woman's camera "forcibly," Subin said. She sustained minor injuries in the incident.

Police quickly arrived on scene, Subin said, but Knight and Williams were already gone.

The investigation remains ongoing. Subin said detectives were still trying to locate a man and woman who were with Knight and Williams at the time.

Lt. Lincoln Hoshino said detectives spent weeks building their case in order to obtain the arrest warrants, calling it "ongoing, rapidly evolving investigation."

"We're still working the case," he said.

Because of an earlier conviction for assault with a deadly weapon, prosecutors said Knight potentially faces up to 30 years to life in state prison in the robbery case. Williams faces up to seven years' imprisonment.

Prosecutors said they plan to ask that bail be set at $1 million for Knight and $75,000 for Williams, according to the district attorney's office.

Both men have prior run-ins with the law.

Williams was arrested multiple times in recent years, but was due in court Wednesday in connection with a July 15 incident in Inglewood when the comedian allegedly pepper-sprayed a man and tried to hit him with his car.

Williams was charged with two counts of felony assault in addition to the use of tear gas, according to a criminal complaint. His arraignment Wednesday was postponed.

Less than two weeks before the Inglewood incident, Los Angeles County sheriff's officials investigated a report that Williams pulled a gun on someone near a West Hollywood comedy club.

In August, Knight was one of three people shot inside a packed West Hollywood nightclub where singer Chris Brown was hosting a party before the MTV Music Video Awards. Knight was struck multiple times.

It was not the first time the Death Row Records founder was injured in a shooting. In 2005, he was shot during another pre-awards party in Miami. And in 1996, he was struck by bullet fragments during the Las Vegas shooting that killed Tupac Shakur.

In 1997, Knight was sentenced to nine years in prison for violating his probation from an earlier assault case. He was released from prison in 2001, but sent back to jail two years later for violating parole when he hit a parking-lot attendant.

In 2008, he was arrested in Las Vegas for drug possession and aggravated assault, but pleaded guilty to a lesser battery charge the following year.
I'm gonna bet that paparazzi disappears. I'm ok with this. It's people like her who glorify what people like Suge Knight do, and make it attractive to impressionable youths.
Paparazzi deserve anything that they get.
JayRoc -

3 strikes?
Sounds like it. 30-Life for Suge, $1M bail.
Somewhere vanilla ice is quoting matt serra
SHOCKING!

These guys would never do this.
Paparazzi?

Im ok with this.
Fuck paparazzi.
TryhardNobody -
Vote up!
Rich niggas doing dumb shit, WTF! I've never understood the mentality behithis behavior. Fuck all that " you can take the boy out the hood,but you can't take the hood out the boy" nonsense. That's ignorant thinking that's giving these dudes coming out the hood who get rich an excuse to stay ghetto.
Doesn't Suge Knight have like 20 strikes by now? Seems like he's always getting arrested and going back to prison.
Jake_Ellenberger_for_the_win - What a duo, you can make that shit into a movie easily.
When Keepin' It Real Goes Wrong: The Motion Picture
bakobell - Paparazzi deserve anything that they get.
TheHawker -

Doesn't Suge Knight have like 20 strikes by now? Seems like he's always getting arrested and going back to prison.
Those are just foul tips, and the catcher keeps dropping the ball.
"Hold up, wait a minute, let me put some Pimpin' in it!"
His name Marion?... Is that not an old ladies name?
Next you'll be telling me 2Pacs real name is Blanche or Dorris
Tossed_Salad -

8:30RezAtDorsia - "Hold up, wait a minute, let me put some Pimpin' in it!"

http://media.giphy.com/media/OhspOCCgq2Rxu/giphy.gif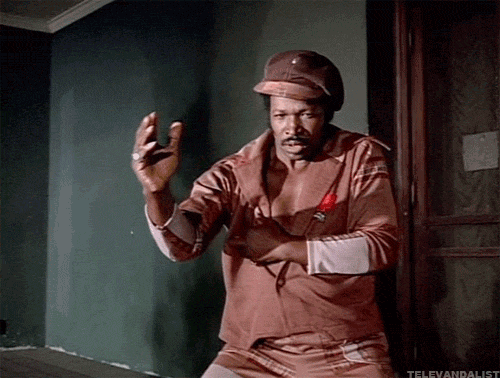 RockTheVote - Isn't kat Williams that comedian that's effeminate as fuck?
Isn't he 4 feet tall?