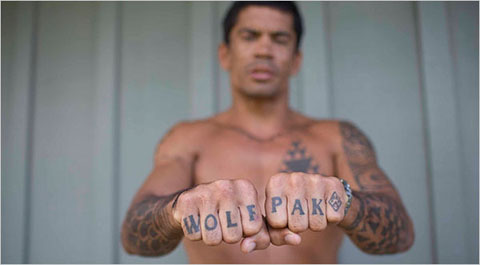 Just read an article in OUtdoor magazine about Kala Alexander and figured you cats would know some shit.

Here's the beginning of the story:



http://outside.away.com/outside/culture/200811/surfing-hawaii-1.html


I DON'T KNOW HOW MANY FIGHTS I've been in. I don't even think about that kind of stuff. I'm just trying to stay out of fights now. But, yeah, there's one I'm most known for.
It was at Pipeline in 2002. Typical December day there—solid six-foot swell, hundreds of people on the beach, and too many guys in the water. I was on the beach when I saw this guy cut Braden Dias off. He could have killed him. Braden and I are good friends, both Hawaiians. I didn't even wait for the guy to come in before I started running down the beach. I just kind of lost it. He didn't want to fight. He kept saying, "No, no, no." But I hit him three times. I didn't know the guy. I heard that he was some kind of fighter from Brazil. He was bigger than me. But it wasn't really a fight. You can see that in the video—it's online somewhere.
I really regret the whole thing. Immediately afterward, though, my thinking was, If this makes people hesitate before they drop in and put someone's life in danger, then some good can come of it. Pipeline was just out of control.
<!-- www/global/pullquotetag_box.adp -->