We got into a mess of smallies in the 3.5lbs range. Lots of decent pike. Then my power trim frigged up and ruined today's afternoon/evening. Decided with the forecast it would be better to cut our losses and load up… then had a bunk on the trailer pivot while loading my rig, further fanning my rage… tonight is going to get messy…
At least the fishing was good.
It must've been a bad moon for power trim yesterday. The same happened to me. We got up early to be out front at sunrise but my trim relay would not work. We got it temporarily fixed but it put us behind schedule. We didn't leave the house until after sun up. It's an hour to the boat ramp.
Dropped anchor at the secret spot around 8am. It was already blistering out. High tide was at 9:30am so the water was completely dead & as muddy as the MS River. The water temp was 87 degrees. We got skunked at the secret spot & wasted about an hour. That's never happened at that spot before.
We blamed it on the hurricane, water temp, salinity level, tide, & the trim relay.
But we weren't going home without a fight. My wife will make fun of us if we come home empty handed. We went all over looking for fish. We finally got into some lady fish & speckled trout. The lady fish were huge & are always a blast to catch. We don't eat them though they say you can. We also caught two keeper specked trout. They have to be 15" & we catch & release a whole lot of 14.5".
We finished the day having caught probably 30 fish between the three of us. It could have been worse.
This is what the Gulf of Mexico looks like right now: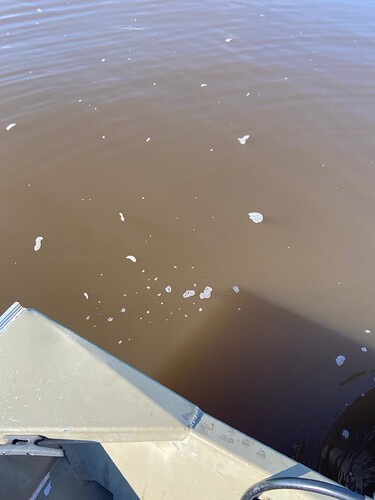 Had a pretty cool package show up from BEF. Hat, lure a sweet key chain and a cool decal. I will rock that decal on the truck. Really appreciate it
You should email a pic of your package…
You salvaged a great day… my motor was stuck completely trimmed up. The trim motor was working but we tossed another battery on to rule power out, still wouldn't drop… fluid was fine, it poured out when we pulled the plug. Had to manually release it to get the motor down which seemed to alleviate the problem. A buddy and I went to take her for a rip to make sure she was all good but it wouldn't trim up under power. It would slowly fall if we started with it trimmed up a bit. I'm assuming the manual release caused water to get in, or the little bit of fluid we lost was enough to cause the motor to drop.
I'll drain and refill it and get her out locally, hopefully that does the trick…
We did all this in stupid winds (cuzzi probably saw the same shit on his side of the bay), without docks, which added to the frustration. Water levels were down, and the camp we were at was a minefield of boulders out to 100m from shore.
To add insult to injury, when we were loading the boat I had a bunk on the trailer friggen pivot 90 degrees. Had to drop it back in the water then fix that shit at the ramp…
I'm glad to be home to say the least.
Right on glad it arrived. Its the least I could do for how much you saved the day during our excursion
Lol, how long did it take you? Be honest!
Liar! Hahaha, good eye. Sneaky little fuckers
I got them hunter eyes from years in the woods.
Got out to test those worms on labor day, largemouth approved!
I got out Saturday for a bit. Crappies and hammer handles.
Hopefully get out to the big lake this weekend.
Weird time of year for me.
Bow hunting starts in two weeks. Great time to fish but deer hunting has to take priority. It's oddly mentally taxing.
I want to do both. But I can't.
Beat me to it Cuzzi, @iFish I wanted to prove my worth!