I'm calling it yet another win for the US National Team.
US - 3
Panama - 1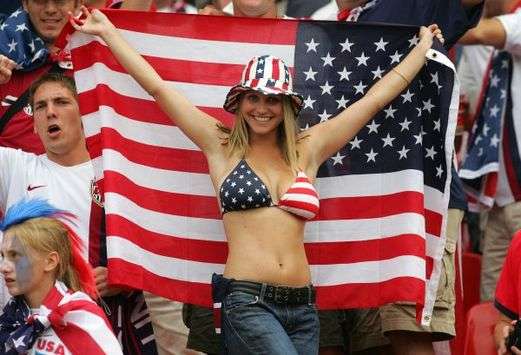 what time and what us channel?
USA have already qualified and have nothing to play for. Panama could still yet get fourth spot if Mexico lose.
Also, Panama is a tough place to go as an away team.

I can't see it going that swimmingly.


8:25 Central, on beIn Sport. We're going to lose. On the road, game means nothing to us, means everything to Panama, we're sending a C team. 2-0 Panama.
tough one.

panama at home in a must win situation and not our full team.

And generally we suck on the road.

It will be a close game.
Torrential rain in Panama right now. I've been reading some Tweets from the American Outlaws and they said the weather is fucking horrible. Field is going to be in bad shape.
i think i'm gonna buy the american outlaw scarf (or maybe ask for it for christmas)
Pretjah -


i think i'm gonna buy the american outlaw scarf (or maybe ask for it for christmas)
CHICAGO -- Midfielders Landon Donovan and Jermaine Jones were dropped from the U.S. roster for Tuesday's final World Cup qualifier at Panama because of injuries, and goalkeeper Tim Howard and defender Matt Besler were allowed to return to their clubs.

The U.S. clinched its seventh straight World Cup berth last month and beat Jamaica 2-0 Friday night to ensure first place in North and Central America and the Caribbean for the third straight cycle.

The Americans announced the roster moves Saturday, saying Donovan was bothered by the ankle he sprained while playing for the Los Angeles Galaxy and Jones by the knee injury that has cost him playing time with Schalke.

"Landon is still struggling with the ankle injury from a couple weeks ago, so he will go back to Los Angeles and try to get back to 100 percent," U.S. coach Jurgen Klinsmann said. "Jermaine's case is more of a concern. His knee was bothering him all night but he battled through. It's clear that the issue with his knee is something that should be taken care of right away so he can be 100 percent for Schalke and the national team as soon as possible."

Klinsmann wanted to go with his No. 2 keeper in the final qualifier.

"Brad Guzan has earned the opportunity to start against Panama," Klinsmann said. "He has been outstanding for Aston Villa all year, and he has been huge in the games he has played for us in World Cup qualifying. As I said before, we have one of the best situations in the world when it comes to our goalkeepers."

Chicago goalkeeper Sean Johnson was added to the roster as a backup in addition to Nick Rimando, giving the Americans 19 players on the trip.

Klinsmann said Clarence Goodson will start in defense.

Panama is fifth at 1-3-5 with eight points following Friday's 2-1 loss at Mexico (2-2-5), which moved into fourth. The top three nations qualify for next year's 32-nation field in Brazil, and the No. 4 team advances to a playoff against Oceania champion New Zealand.

Mexico closes at Costa Rica and third-place Honduras (4-3-2) is at last-place Jamaica (0-5-4).

The roster:

Goalkeepers: Brad Guzan (Aston Villa, England), Sean Johnson (Chicago), Nick Rimando (Salt Lake)

Defenders: DaMarcus Beasley (Puebla, Mexico), Geoff Cameron (Stoke, England), Edgar Castillo (Tijuana, Mexico), Brad Evans (Seattle), Clarence Goodson (San Jose), Michael Orozco (Puebla, Mexico)

Midfielders: Kyle Beckerman (Salt Lake), Alejandro Bedoya (Nantes, France), Brad Davis (Houston), Mix Diskerud (Rosenborg, Norway), Sacha Kljestan (Anderlecht, Belgium), Graham Zusi (Kansas City)

Forwards: Jozy Altidore (Sunderland, England), Terrence Boyd (Rapid Vienna, Austria), Aron Johannsson (AZ Alkmaar, Netherlands), Chris Wondolowski (San Jose)
So what is the status and standings and possible outcomes of this last game for the Concacaf group?

USA wins the group

What about the other teams?
Game is at 9:30pm Eastern on BeIn channel (in other words watch it on FirstRowSports).
i think costa rica is in for sure
i think hondorus is guaranteed the 3rd or 4th spot
and i think panama and mexico can get either 3rd 4th or eliminated
atleast that's what i got from listening to twellman and company during the jamaica match, but i could be wrong
This is a Win/Win for us. If we win it shows we are as dominate as we have been telling everyone especially since this isn't our "A" Squad. If we lose Mexico is not in the World Cup which is a win for us because we hate those weasel dick cocksuckers worse than everyone in the world hates the Welsh lol
what lineup would you like to see today
i'd like them to go
guzan
evans orozco goodson beasley
beduya cameron beckerman gusi
diskerud
johanson
If the USA loses, then Mexico misses out and can't make it...holy fuck.