I've always been a supporter of gay marriage and freedom for consenting adults to do what ever they want to do. I've never bought the slippery slope argument. I WAS WRONG!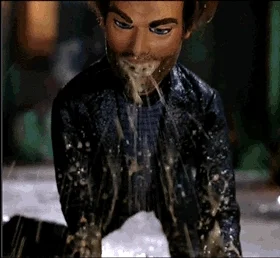 The person is singing about loving who you are on the inside.
But it seems, more likely, they just hate who they are on the outside.
I'm starting to think we have more in common with Sharia Muslims than we do the American left. This freak show would have been tossed off a roof by now
This is from Nickelodeon? I'm not far off accepting and promoting violence
Mental illness has not only been allowed to fester but has been actively encouraged by those with power and influence (politicians, celebrities, teachers, MSM, etc.). Things are so far gone that it's going to take a lot of blood letting to get it corrected. No other way we bounce back from where we are.
Unsurprisingly they have disabled comments and user ratings, because I am sure they are well aware that the feedback would be anything but positive.
They are slipping this insidious shit into all programing these days and you really do need to monitor what your kids watch like a hawk now. I am at the stage where I dont just limit what my kids have access to on the internet I seriously considering just going back to DVD's and letting them watch things that were produced before 2000.
This is one of the reasons the left needed to force out Christianity first. Now America and the western world in general is left with a moral culture that is truly evil.
In the 70's and 80's
Conservatives - Legalizing homosexual marriage and promoting homosexual lifestyles will only be the start. It will lead to more degenerate behavior.
The Left - Shut up you bible thumper. You are just homophobic and against someones right to be themselves. You're a biggot.
It is the same thing being said by the left about transgenders now just a short time later. Soon it will be the same thing said about pedophiles.
This is our culture now, even on a major show like Good Morning America they promote drag kids.
I can't even think what my dad would say……
I'm starting to feel that way too, their women behave much much better than ours. What did all of that altruism and giving women the right to vote get our society exactly?
I'd like to apologize to ghenghiseeanie
Drag has always been an inherently sexualized activity pushing sexualized activity on kids between 2 and 5, the target audience for this show, is insane.
Has this legitimately been broadcast on Nickelodeon or is it a mock up?
Until people stop watching this shit and telling sponsors that they will no longer buy their products this will continue to happen. Vote with your dollar. Disney, and now Nickelodeon, will not be watched in my house. This is the problem with the right. We don't agree with what companies are doing but we still buy their products.
The next generation of white ppl will be far more marginalized than the current ones and far angrier. You will see the formation of an extremely powerful white political block within 30 yrs in the US. Right now the white vote is split right down the middle and the 2 sides hate each other