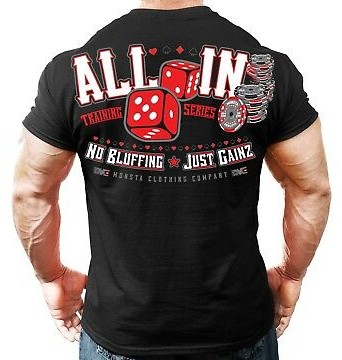 Where do you shop, boysrus?
WendyIDMT -

Wow.  That's pretty gay.
Thanks bro
Kip Kinkle -

Better be a v-neck! 
You know it! The sleeves are wide enough that I can even roll them up to expose my tris.
gayer than 4 guys blowing 5 guys 
I was expecting a hawaian shirt. 
Bro, omg omg ....... oh my gay 
What game involving dice uses the term "All In"? I understand the poker chips, and would've understood if it were cards instead of dice. But I don't gamble enough to know if there's a dice game that uses that term 
Swole is the goal, size is the prize, it's gainz o'clock motherfuckers.... let's gooooooooo
Something something, cum on a mustache.
I like it...but i also wear old Affliction and Hoezler Reich Ts around the house and when i walk the dog...
meh ill stick with Tap Out
sicko -

What game involving dice uses the term "All In"? I understand the poker chips, and would've understood if it were cards instead of dice. But I don't gamble enough to know if there's a dice game that uses that term 
Liar's Dice