Apparently, Tom Brady couldn't believe Dwight Clark made The Catch.
Before Tom Brady became the face of the Patriots, a Super Bowl MVP, and one of the best quarterbacks to ever play in the NFL, he was just a kid growing up in Northern California who happened to be a huge Joe Montana fan.
On Thursday, the folks running Brady's Facebook page, posted a picture of the future Hall of Famer taking in a game at Candlestick Park. But it wasn't just any game. It was the NFC Championship matchup against the Cowboys that was decided by The Catch.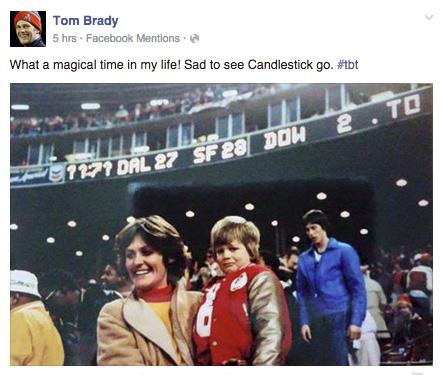 The scoreboard behind Brady shows the final score: 49ers 28, Cowboys 27.
Brady, who sported the Bieber before Bieber did, was four years old at the time Dwight Clark did the improbable to send the 49ers to the Super Bowl.
On Jan. 10, 1982, Dwight Clark made one of the greatest catches in NFL postseason history.