OMG that SKS in the thumbnail looks WAY too scary… ban it!
lol
And someone tried to compare our countries on here the other day
Fuck that faggot. If he is ever with in sight….I am obligated. Cunt
That Sks doesnt even have 30 round clip magazines.
And its a wooden stock, not scary black rifle.
Oh and its a chinese commie rifle, Trudeau should love it.
Fuck yeah Trudeau. One of the best leaders this world has ever seen.
Someone posted this in another thread. Given the time of year, it seems to apply in this thread as well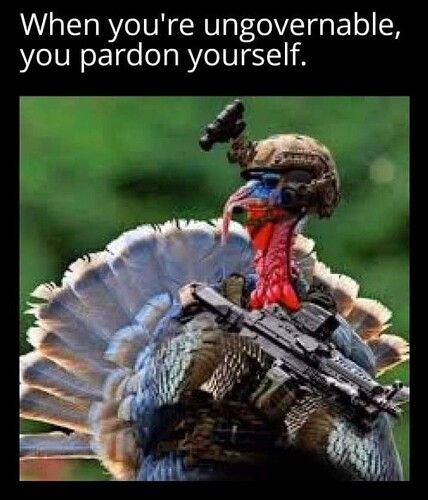 So the next admin runs on a platform of changing it and wins
Problem solved
Typical canadian will cheer this on. You guys have no idea how completely insanely culty left most canadian are
Guess I'll say it for the 100th time… none of this has ANYTHING to do with public safety.
People were naive to believe they would stop with the gun registry…
…Then people were naive enough to believe they would stop at restricting "scary" guns…
… Then people were naive to believe that the OIC prohibiting the "scary guns" was the end.
… Then people were naive to believe the handgun freeze was the end.
… Now? all semi's with 'detachable magazines'… you really think this is the end?
Newsflash, next will be all the remaining semi's (shotguns and rimfire), then other firearms capable of "quick follow up shots" (or some other B.S. liberal wording) that will include levers & pumps.
The global libturd ideology is complete disarmament of it's populace, whether under the guise of "public safety" or not. A disarmed populace is a compliant populace… and this is required for what they have planned next.
Yep my city is the asshole of the province.
Hellifax.
So many rabid lefty cult facist it's insane as they walk hand in hand wearing the same pairs of boots with rainbow dyed hair.
Shit bags.
I would love to hear how any sort of legislation takes guns out of the hands of criminals.
People are so stupid and so easily led.
The problem is that's not the goal. At all. That's just what you tell the average person and they nod along because on a surface level, it seems reasonable.
The goal is always to ultimately disarm the public to remove their ability to negotiate with the government. Who wouldn't want the ability for ultimate authority? Even if it is not initially malicious intent.
I can't argue against this
A pedo wouldn't argue that.
Oh cmon quit trolling.
Canada has next to no gun violence and this protects nobody. Even of you are pro gun control this doesn't make sense on any level
Biden would be doing the same shit if he could.
Once canada makes this law, democrats are going to point to the low gun violence in Canada to prove the law works guaranteed.
I just bought a Wk-180 Gen 2. I was going to wait until the new year, glad I decided to pull the trigger early.
I new this shit was going to happen, so wanted to get it while I could.
Fuck Trudeau.