Hey guys,
This is my first article at my new job with Bleacher Report! I tried to keep it as true to my format as possible, but I'm still very much learning to use the BR photo cropper and formatting.
As promised though, no slide show or top 10 list, just analysis. Hope you don't mind clicking the link and now more than ever your feedback is very much welcome!
Cheers,
Jack
Wanderlei Silva and Brian Stann are men who are cut from a similar cloth: that of the traditional sprawl and brawler. We all know the type - the man with cinder block hands and gritted teeth who will walk forward throwing heavy strikes and hoping to land a big blow before he is forced to dig for underhooks and smash his hips down on top of his opponent as they attempt a takedown.
While Silva's failures in recent years have largely been excused by his deteriorating physical attributes and continuing decline in technical variety—Stann's can be seen as something of an indication that this forward moving, punch and pummel style just doesn't work at the highest level anymore for men who lack a great wrestling pedigree.
Today we will look at why the method of sprawl and brawl which Wanderlei Silva pioneered in PRIDE just doesn't work at the highest levels any more.
The Evolution of Takedown Prevention
I don't want to get too bogged down in how takedown defence has become more about pre-emptive avoidance but I will explain a little today to frame this piece. In the early days of MMA the style of counter wrestling which came to the fore was that of backing the opponent up, running in with strikes—looking for a knockout with each—and then dropping the hips hard and pummelling for underhooks (or looking for the double collar tie which Silva used to land knees so famously). It was an exhausting and strength based game.
In recent years the majority of MMA organisations have moved to cages rather than a ring, and this opens so many more options for the striker or BJJ exponent who lacks a wrestling pedigree. Firstly men who lacked the ability to sprawl on opponents and often got cornered in a ring now had the option of moving freely without the risk of ending up in a corner—fighters such as Anderson Silva and Lyoto Machida experienced enormous benefits in their move from rings to cages. Distancing and footwork are now the most important elements of takedown prevention where even the enormous PRIDE ring made life claustrophobic for strikers due to its tight corners.
Further to that more and more fighters who lack a wrestling pedigree now feed their opponent a single leg takedown by widening their stance and making it difficult to pick up both legs then hop to the fence and use it to support them as they pummel for position. Moreover walk walking and bridging off of the fence are now commonplace. Just take a look at B.J. Penn feeding Diego Sanchez one leg and hopping to the fence. (This being my first article with Bleacher Report I hope you will excuse my lack of experience with BR's photo cropper).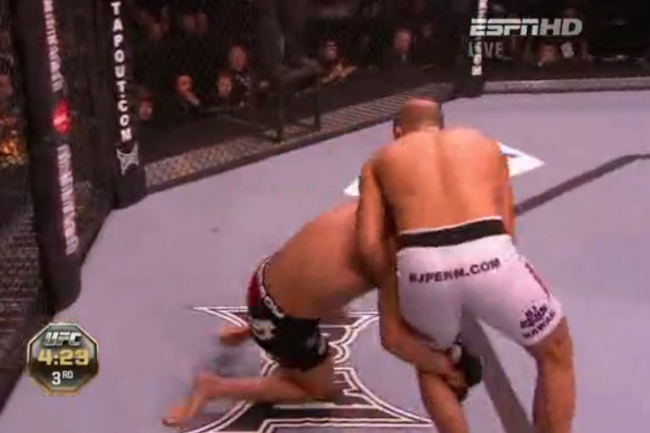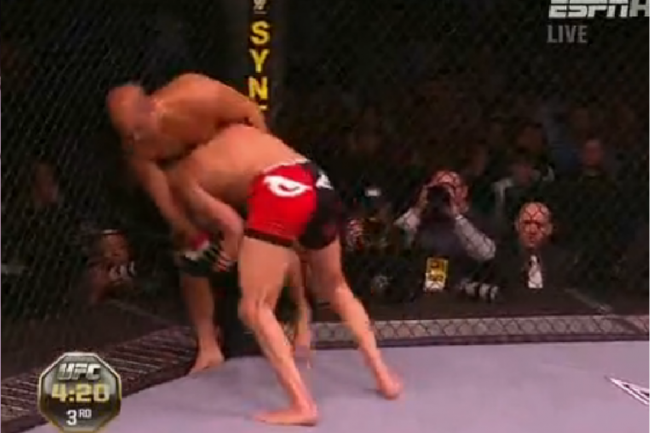 This tactic is now commonplace particularly among members of the Nova Unaio and Black House camps. Feeding the lead hip is largely responsible for the successes of southpaws Lyoto Machida and Anderson Silva simply because of the distance which a southpaw vs orthodox encounter creates—but that is a story for another day.
From here a striker can use a number of counter offensive methods while using the cage to support himself. Looking for the Thai style double collar tie is becoming more popular—Michael Bisping stifled Chael Sonnen with it, and Anderson Silva troubled Yushin Okami in the same way.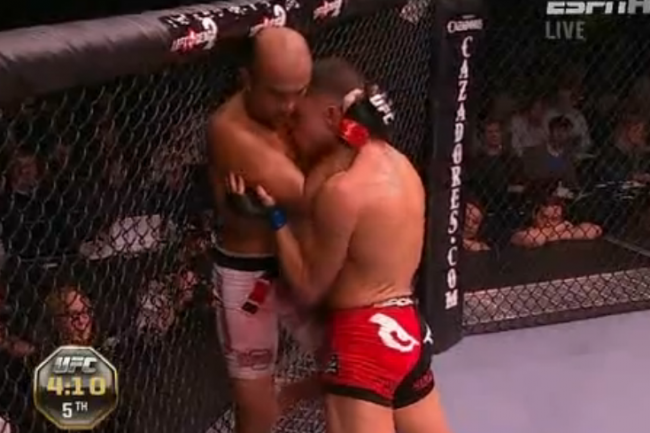 The switch is also becoming more commonplace. Threading the arm between the opponent's inside arm and leg can be used to place tremendous pressure on the opponent's arm, and can force a reversal of positions, open a path to the back or simply be used to break the opponent's balance. I'm sure you can all recall Jose Aldo using this method in a great many of his matches, and recently Carlos Condit hit one on Georges St-Pierre.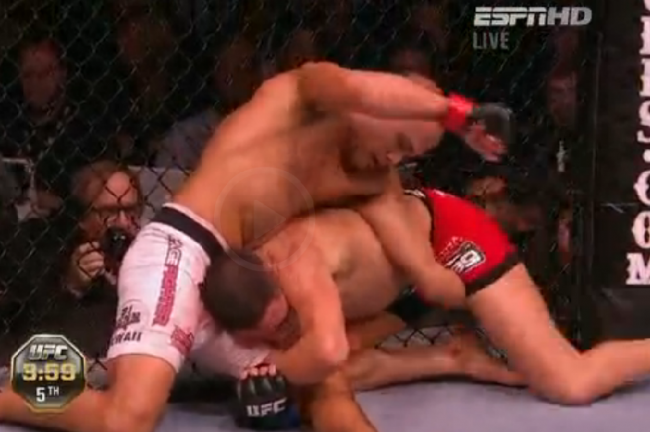 Silva and Stann—strikers without a great wrestling pedigree who walk forward with their strikes and attempt to react to takedown attempts, rather than those who stand at range and look to make the opponent engage—are fossils in MMA, and I doubt that we will see many fighters without a great wrestling pedigree make this style work at the highest level again. Silva's success in PRIDE, while legendary, was due to the circumstances under which he fought—most notably the level of striking ability among grapplers and their inexperience under fire and the tight corners of the ring into which he would rush his opponents and force a desperation shot right into his double collar tie.
The Wanderlei Silva Method
Wanderlei Silva's striking was based in aggression and unpredictability in terms of what he would throw in his flurries. Often Silva began with a jab then would swing broadsides in from bizarre angles, mixing in the occasional high kick (which a couple of unfortunate opponents ducked on to) or a chopping low kick if he was feeling unusually patient.
It seemed like the entire goal of Silva's striking, however, was to grab on to his opponent's head and set to work with the knee strikes which he is infamous for. The swarming punches simply served to get his opponent covering or force them to duck toward his waist in desperation. At this moment he would slide his forearms in front of their collar bones as he took a grip on the back of their skull.
Below, against the enormously entertaining, durable and underappreciated Daijiro Matsui, Silva rushes Matsui into a corner, connecting a couple of solid punches, forcing Matsui to duck at his waist. From here Silva manages to back up far enough to slide into his double collar tie and begin landing knees.
Continues in further detail at: http://bleacherreport.com/articles/1545683-ufc-on-fuel-8-brian-stann-vs-wanderlei-silva-is-silva-too-old-to-change