It was impossible to stop his low single. It wasn't only his ability to penetrate and get to your ankle but how fluid he was in his finishes. Buckling opponens right to their ass, or coming out the back door and scrambling. His offensive defense videos is also a must have for coaches of ALL levels. I tried to emulate t.j. Jaworski and John Smith as a wrestler coming up through High School those guys were wrestling Gods to me.
I have Mr. Smiths wrestling series, he advocates constant drilling of stance, footwork and fluid motion. He practiced what he preaches.
Wow at the Kurt Angle video. Of course he is amazing but he also has such a commanding presence and ability to communicate that it's no wonder he ended up in pro-wrestling. Not a single umm or ahh, just knows what needs to be said and says it.
There are nuances to all of this that are absolutely lost on me but it is interesting a couple of differences between he and John Smith (from the video I posted anyway).
At 12.45 he mentions Smith's posture during the duck-under which is hips underneath you, whereas Angle prefers his hips slightly back. As he says he gets his power from his butt and that doesn't work when your butt is under you.
Also if I'm getting this right John Smith starts with his head on the opposite side to the eventual duck under whereas Angle starts from the same side.
I don't want to gush too much but what an age we are living in to see some of the very best to do it demonstrate how they do it. And it's all free!
Gah, I've gotta say it…the best wrestlers are so much more impressive than the best jiu jitsu guys.
'88 Olympics
'88 Olympic team trials vs Randy Lewis
'88 Olympic trials vs Randy Lewis match 2
Everyone seems so flat footed compared to him. He's always moving and always looking for something.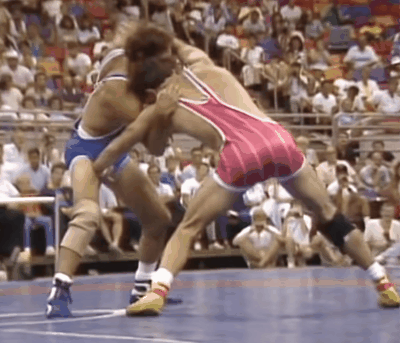 lol ruthless
testing gif size/viewability
'89 world championships vs Stepan Sarkisyan