You where actually there?
The doc was pretty good. I was 15 when it happened and remember the story being everywhere. Someone said it earlier, the promoters are absolute morons. 250,000 people with no actual security is asking for trouble.
Watching now…thought this was about the Woodstock in 1994…had no idea there was another one in 1999…this might be good, lol
That's wild. I thought 1994 was the forgotten Woodstock. 99 was a better than up then 69. Aside from CCR and Hendrix
WATCHED IT LAST NIGHT, FOUND IT ENTERTAINING.
THOSE 3 PROMOTERS WERE ALL SHITBAGS WHO KNEW EXACTLY WHAT THEY WERE DOING. THEY DEF WOULDN'T BE GETTING AWAY WITH THAT SHIT NOWADAYS THOUGH, JUST LOOK AT HOW THE FYRE FESTIVAL SHITSHOW WENT AFTERWARDS.
2 episodes in…this is nuts, lol
For sure. I thought the vast majority of the issues could have been prevented with better promoters.
I remember watching much of it live on MTV. What a fucking crazy, all around shit show. The people who put it together were absolutely retarded. From willfully ignoring the types of bands (not a problem in general…been to many metal fests with bonfires, mosh pits etc…) combined with a severe lack of security, clean water, bathrooms and a belief that this show would be anything like the love and peace atmosphere of the original. And then to see interviews of them still not taking blame for the ignorance to all of those issues was amazing.
Also Fred Durst is a retard but that goes without saying.
Yeah that message is in almost everything these days and it's a bit ridiculous at this point. Who actually can take it seriously?
I remember girls walking around with their tops off and then some acting shocked that some guys would reach out and touch their tits… umm if a guy walks around without pants on then you can expect a few gurks(in a crowd of tens of thousands) to grab or poke his dick. But sexism lol
Great doc. LoL @ that chick getting trench mouth!
We had one of those black cable boxes that unlocked all the extended cable and ppv so i recorded all of the ppv of woodstock 99. Metallica has the best set imo.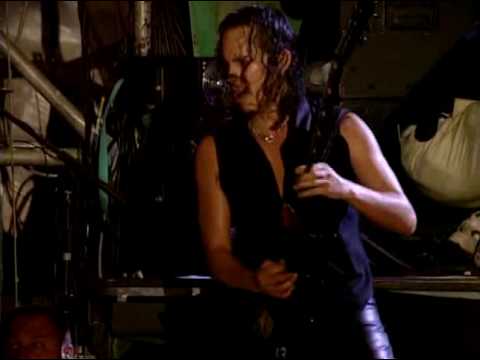 Yeah, same thing for chicks who crowd surf and complain when someone grabs them. I mean what did you expect?
Just finished up…wow what an utter shitshow, lol
is this one othose documentaries that try to exaggerate some minor thing in an event?
Try watching it and then form your own opinion
That Michael Lang guy reminded me of the tech billionaire guy from don't look up, just an oddball who puts earning potential over anything else. Who put that line up together too? Bush had to follow Korn at the peak of their popularity? I'm not even saying from a talent perspective, they were just obviously going to get the crowd up for anyone who had to follow
The old bald lapdog guy was an asshole. They put together a terribly organised festival, hand out fucking candles and then that dildo bitches that the fire department can't just drive a fire truck through a sea of humanity to put a fire out. He also attempted to dance around the rapes by falsely equating the attendance to the population of a city, he was so close to saying by comparison, 4 reported rapes isn't too bad for 3 days. It's always been believed to be a lot higher than that too, the footage of the chick in the bikini being surrounded by and closed in on by about 10 guys was creepy
Nice to see Rich Vos
Great documentary. I was in college at the time and couldn't get enough people to go, so our road trip was cancelled last minute. Just some observations as I was a freshman in college at the time, which apparently was the demographic that caused this chaos lol.
Price gouging - much like today, this event wasn't about peace and love…it was for profit. Water bottles were going for up to $12 towards the last day.
Location was a military base - the original woodstock had problems with people sneaking in for free through loose fences, so they literally set this up on a military base and put up an 8 mile long wall. There was very little green space for camping.
Heat and no cooling stations - With the heat, there wasn't much shade on the venue or tents to hide from the sun.
Bathrooms and water stations - well, there weren't enough facilities and eventually, the drinking water and toilet water mixed together. People jumped in it and drank it.

very little trash bins - some hippy from woodstock I was handing out trash bags lol!

horrible flow of lineup - the PA who was young at the time, kept trying to mention that the lineup will cause problems. The top men kept telling him to shut up.

candles - they handed out 100,000 candles at the end to take a stance against gun violence. See documentary, which explains the fires. Firemen wouldn't go in for various reasons.

the rave hangar - yikes! very druggy with sexy parties and rapey people
With that said and for what the kids paid to get in…
The coordinators and cucked reporters tried to blame:
The bands
the college frat dudes
The PA tried to mention many of these things, but was told to shut up lol.
Fred Durst said it wasn't his fault and event tried to reference all of the conditions of the venue.
Jewel quit midway through her set.
Cheryl Crow got angry at the cat calls.
Korn said they did a great job with good vibes.
Bush said they helped scale down the vibes to what the coordinators envisioned.
Red Hot Chili Peppers said that they played "Fire" at the end because Jimmy Hendrix's sister requested it.
Fatboy Slim had to evacuate the rave hangar lol.
Michael Lang had a very punchable face IMO. It was great during the last press conference when he said that the tearing down of the walls was good for souvenirs.
Anywho, I thought it was funny how they tried to blame the kids and the bands pretty hard during the documentary. They played their parts in this perfect shit storm.