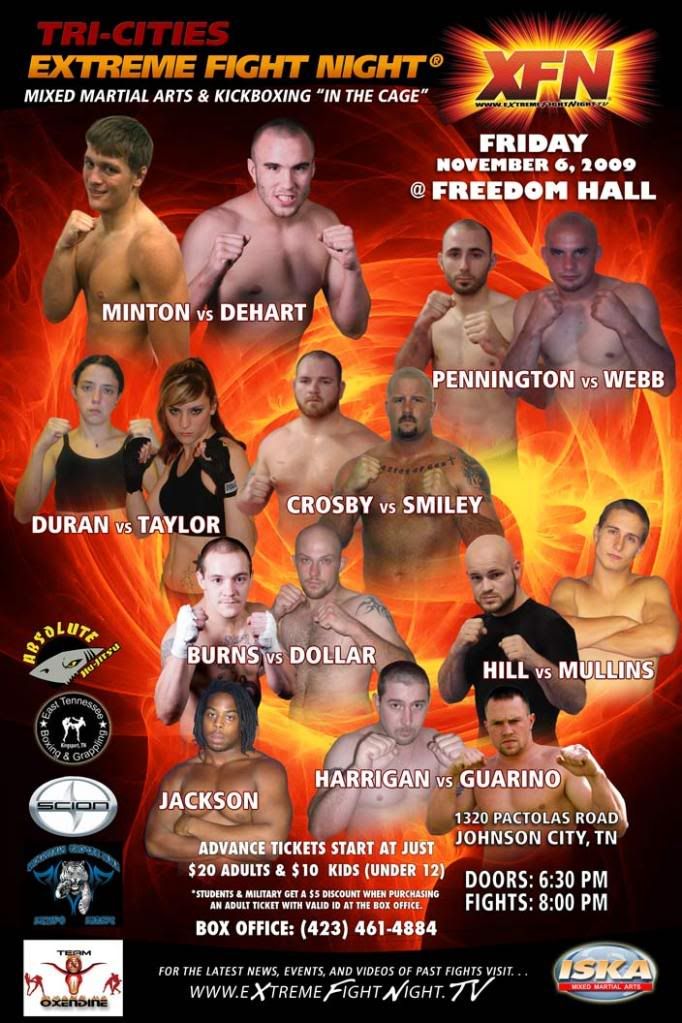 This will be the first MMA Event held at Freedom Hall Civic Center, the largest venue in Eastern Tennessee.. Highlights will be used to film our upcoming National Television Commercial.


XFN heads to the Tri Cities on Friday November 6th for the first ever MMA Event to be held at the Freedom Hall Civic Center. With over twelve scheduled fights, the fight fans are in for an exciting time. Several local teams are sending fighters to the Event, including: Absolute Jui Jitsu Academy, East Tennessee Boxing & Grappling, Mountain Empire Martial Arts, and Oxendines MMA in Johnson City.
Four scheduled Title Fights will headline the blockbuster card including:
1) United States MMA Featherweight Championship
Justin Pennington (IMA/Lebenon, TN)
versus
Daniel Webb (East TN Boxing & Grappling/Kingsport, TN)

2) Southeastern US MMA Welterweight Championship
Micah Lail (Team Superior/North Carolina)
versus
Dhiego Lima/Ascention MMA/Roswell, Georgia)

3) Southeastern US MMA Heavyweight Championship
John Harrigan (Oxendines MMA/Johnson City, TN)
versus
Austin Guarino (Rough Necks MMA/Canton, GA)

4) United States MMA Middleweight Championship
Rocky Shelton (Jones Ultimate Karate)
versus
Tyler Minton (Oxendines MMA, Johnson City, TN)

Tickets to this Extreme Night of Fighting start at only $20 for adults and $10 for kids (under 12) Cageside only $40.
Stop by of call the Freedom Hall Box Office at: (423) 461-4884.