UFC 153: Frankie Edgar Fight Is the Best Thing That Ever Happened to Jose Aldo
Use your

← →

(arrow) keys to browse more stories
Next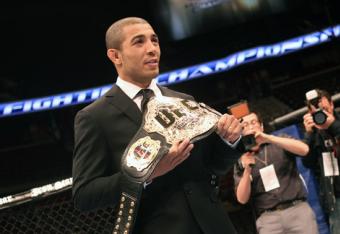 Image via Heavy.com


With due respect to featherweight contender Erik Koch, I breathed a sigh of relief when the news broke that he was forced to pull out of his UFC 153 title fight with champion Jose Aldo.
I don't have anything against Koch, but there was a good chance I might be called in to do a radio shot or podcast appearance. And, shame of all shames, I have no idea how the semi-obscure challenger pronounces his last name.
Is it coke, like the beverage? Is he kin to former New York mayor Ed Koch? Does it rhyme with, um, clock? I've seen the man fight multiple times and can't say for sure, which says something about his prestige level as a challenger, or at least, about my memory.
Frankie Edgar, though? He's someone I know. Last night, I argued Edgar was one win away from a title shot at 145 pounds. It seems I was wrong. He's no wins away. In fact, coming off consecutive losses, he was apparently negative two wins away from a shot at gold.



---read the rest here---