PART II


MONTHS LATER, A MATCH LOOMS WITH BIG COUNTRY ROY NELSON......





"I vehey nervous. This guy...he hita hard and he eat a lot. He have the weight on me! Vehey nervous!"




"HERP DERP! He ain't never fought nobody like miy, and I hit real real hard. I got a big knuckle sammich for heyim after I go make myself a sammich. Wait a second, is that a whopper? BRB...HERP DERPPP!!!


THE UG: "Roy will upset JDS. Don't count Roy out. He beat NFLer Schaub and the next Overeem STRUVE. OMG!!"

Sensible part of UG: "LOL. JDS will wreck him."


Weeks later at UFC 117:

Roy: "I can't wait to git at heyim. Herp derp!"

Junior: "Roy a tough guy but I think I prevail. I look to knock heem out."







"Ouch! He hits harder than he looks, OH DERRRRPP!!! THAT SMARTS!!!"


"Oh no, here comes another one! Sheeyit!!!"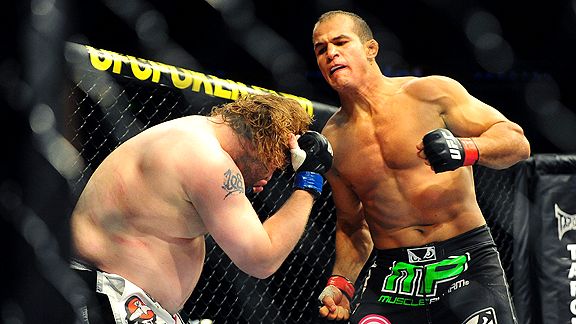 "OOOOmmphh, my bellar, DERRRRPPPPPP!!!!!!!!"





"Maybe now I finally can have shitle tot wif Cain or Brock weiner!!!"




"I'll fight Fedor or anybody. Alistair Overeem, you name it. Fedor's my idol and is the best fighter in the world, so naturally....I'd like to fight him"




"You're fighting MOTHER FUCKING Junior Dos Santos at UFC XXX!"




"About that....I rotated my injured cuff...I mean.....I INJURED MY ROTATOR CUFF!"





"What in the FUCKING FUCK...is a ROTATOR CUFF!!!???!!!???"





"PICK ME! Brock is gonna give Junior a good ol' fashioned midwest, country beatdown!"




"I got a bad feeling about this one, Brocky ol' boy!"




"Marty! I just got back from the Future and it's your student Brock! He's in big trouble! Remember that guy he took his worst beating from and narrowly survived? TAKE A LOOK AT THIS PHOTOGRAPH!!!"





3 MONTHS LATER: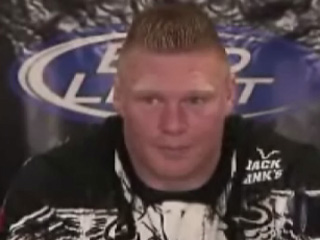 "I have diverticulitis again"




"NOoOooOOO!!!! WTF..... WHY NOBODY WANNA FIGHT ME?!?!?!?!"





"I will fight Junior Doss Santos, YO!"

Much later.....




"Hhhrrrrmphhhhgghhh!!!"




"The horror! The HORROR!!!"




"I verry verry happ! Can't wait to fight for shitle against Cain! I very happ! Finally, I can rest and know that shitle tot is mine!"





"Yeah.....About that title shot....We're gonna have you go ahead and take another fight. If you could could come in next Saturday and fight Frank Mir for the interim title.....that'd be great"






U MAD?





"FFFFFFFFFFFFFUUUUUUUUUUUUUUUUUU-!!!!!!!!!!!!!!!!!!!!"