its good to look back to see how far we've come, where we are now, and where were headed. every now and again i look at the onzuka.com archives with a nostalgic eye. here's an onzuka.com feature story from 5 years ago - April 4, 2003
Bull Force Presents:

Kickin It Again Results!

Palama Settlement Gym, Honolulu, Hawaii

April 4, 2003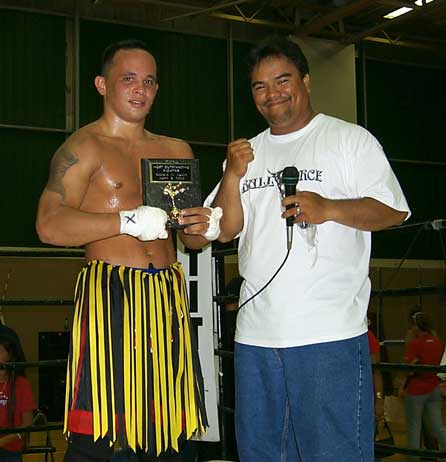 *Shawn Taylor wins the Fighter of the Night Award

In the multifaceted sport of Mixed Martial Arts, fighters are always looking to improve their over all performance by focusing their training on specific areas. Many fighters have been known to enter BJJ or submission grappling tournaments to improve their ground game. And on the other end of the spectrum, fighters compete in kickboxing matches to improve or test their stand up. Almost half the fighters have fought at least one MMA match, so it was going to be interesting watching them perform in the more strict rules environment. MMA fighters won every match that they fought. The event was put together by some people who love the sport of kickboxing and want to bring it back to the lime light in Honolulu. The match ups were very good, which can be seen by every bout going the full three rounds and ending up in a judge's decision except for the main event. Some of the highlights were 14 year old David Balicao's crisp punches and Jerome Kekumu's accurate combinations. There were also a few wars like the Brandon Absher-Jaime Galapia match and the Justin Dano-John Nerveza match. They even had Vai Togia and Sheldon Abella, a couple of heavyweights throwing down huge punches and kicks at each other. The main event kept the crowd at the edge of their seat when Shawn Taylor dropped Bryson with a right hand seconds into the first round. He then dropped him again with a right kick to the head. Somehow Bryson survived and relentlessly attached Taylor, winning the second round, leaving the fight wide open. Taylor got the referee stoppage when he seemed to get his second wind and put the pressure on a tired Bryson. The production ran surprisingly smooth, considering this was their first event. The next event is scheduled May 24th and will feature younger fighters. If you are interested in some great kickboxing, check out Derek Bright and Danny Kaheaku's next event.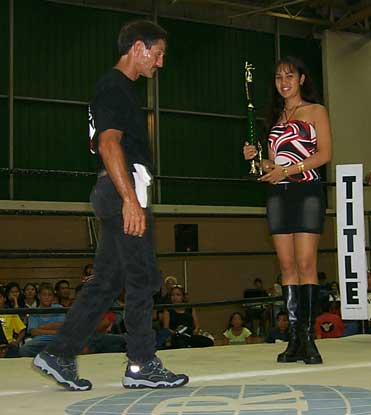 The referee and Miss Teen Hawaii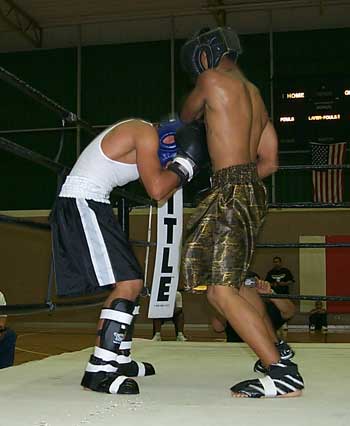 Kids Fight 125lbs

David Balicao (Hawaiian SD, 14 years old)

Def.

Zane Cabacugan (Hapkido TKD, 15 years old)

Via decision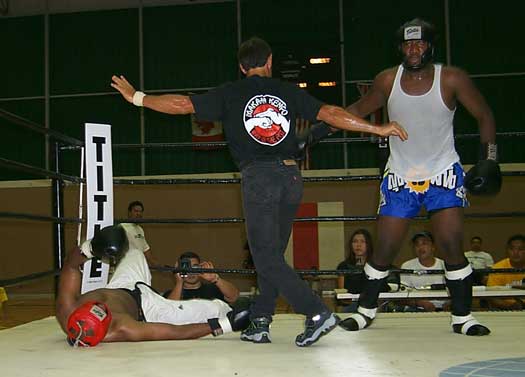 Heavy

Kunta Edmonds (Kempo Unlimited)

Def.

Willie Chambers (Hawaii Tae kwon do)

Via decision
170lbs

Paul Laga (Bulls Pen)

Def.

Wayne Kamealoha (Hawaiian SD)

Via decision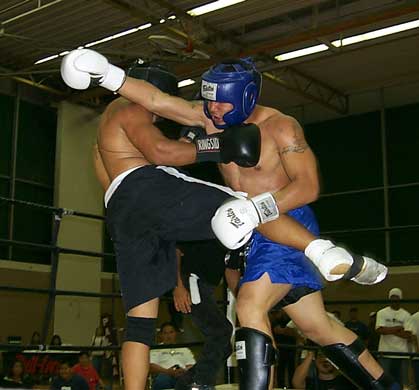 170lbs

Harris Sariento (808 Fight Factory)

Def.

Craig Park (Hard Knocks)

Via decision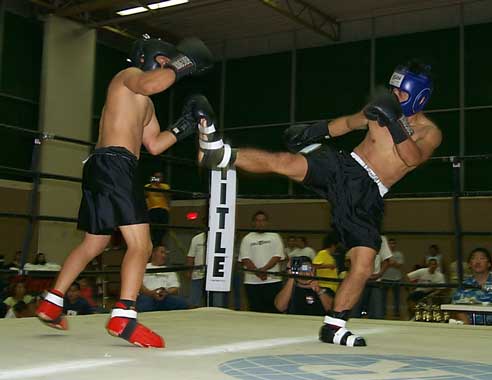 145lbs

Jerome Kekumu (Hard Knocks)

Def.

Edwin Cabacugan (Hapkido TKD)

Via decision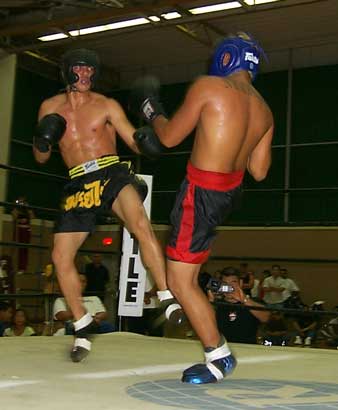 155lbs

Brandon Absher (Hawaiian Self Defense)

Def.

Jamie Galapia (Bulls Pen)

Via decision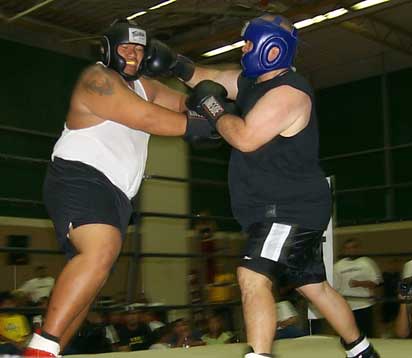 Super Heavy

Vai Togia (Hard Knocks)

Def.

Sheldon Abela (Hapkido TKD)

Via decision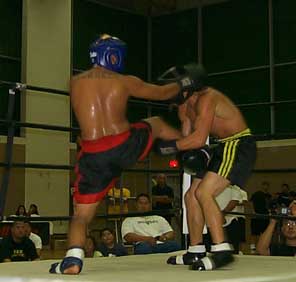 Semi Main Event:

150lbs

Justin Dano (Hawaiian SD)

Def.

John Nerveza (Bulls Pen)

Via decision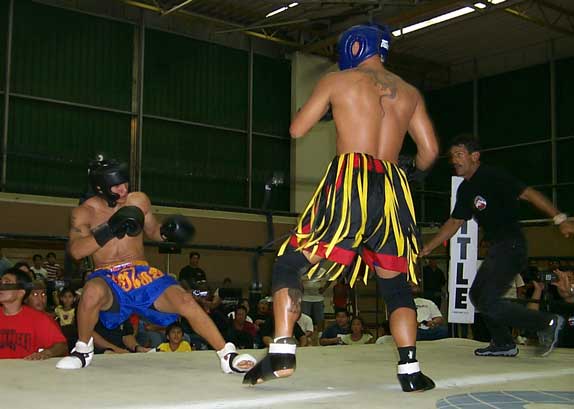 Main Event:

170lbs

Shawn "Tornado" Taylor

Def.

Bryson (Hard Knocks)

TKO via referee stoppage at 2:14minutes of Round 3.