I'm going to this. Done
Oooooooh snaaaaaaap!!!

Awesome night of fights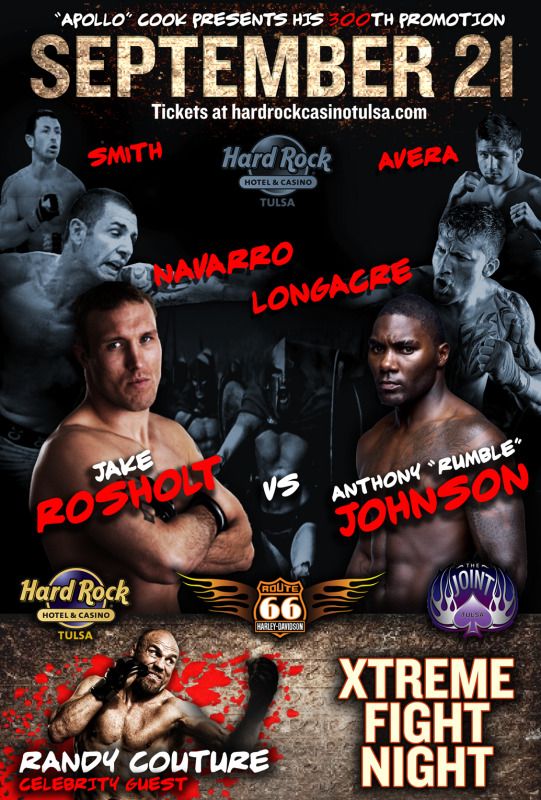 [IMG]http://i101.photobucket.com/albums/m69/apollosprincess/poster-small.jpg[/IMG]

http://i101.photobucket.com/albums/m69/apollosprincess/poster-small.jpg
Is this the same Rumble Johnson fighting for Titan this weekend?!
you white-devil KKK Tulsa boys need Jesus!
Same one. We knew about this fight when Johnson signed the contract with XFL. Estevez Jones is no gimmie,but Johnson is obviously confident,or he wouldn't have signed to fight Rosholt.
XFL #300 September 21 in the Joint at Hard ock Casino Tulsa.

XFL Superfight at 205lbs
Jake Rosholt VS Anthony "Rumble" Johnson

XFL Welterweight Championship
Levi "The Marine" Avera VS Dylan "Savage" Smith

ISKA World Kickboxing Championship 160lbs
Thomas "Thunderick" Longacre VS Marcio "Locomotive" Navarro

Also featuring Codale Ford, Jesse Chaffin, Andrew Todhunter, Jarret Rouse, Ed Cline, Haze Wilson, TJ Arrington, David Grayson,Chase Mcdougle, and undefeated Kathina "Kill Switch Catron.

Plus UFC Hall of Famer Randy Couture!

Only about 324 tickets remain out of 2,700.

www.hardrockcasinotulsa.com

must be 21
Dude... Glad I checked the forum or I might have missed this
Only 324 tickets remain?! Dale you posted that, but lol you say "only about" but then use a exact number like 324. And that would be impressive if fighters weren't out selling tickets. We both know there is no way to tell exactly how many tickets are sold when the tickets are still in the fighters hands. No worries you can comp a shitload of tickets, so this show doesn't bomb as bad as the last one. Since you so generously helped clarify ticket count on someone else's event, I thought I'd return the favor.

P.s. I hope Couture doesn't charge you extra to take a pic with him, maybe you can pay him more to act like he cares!
Xtreme Fight Night "XFL 300" SEPTEMBER 21 HARD ROCK CASINO TULSA


7:15P PRE-FIGHTS

1-MMA 145LBS  
GARRETT SMITH-ENID VS TBA

2-MMA 135LBS 
CHASE MCDOUGLE-TULSA VS MARK MANLEY-OZARK,MO

3-MMA HEAVYWEIGHTS  
DAVID GRAYSON-TULSA VS CHRISTIAN ADAMS-OZARK,MO

4-MMA 125LBS
TJ ARRINGTON-TULSA VS AARON HOLIDAY-OZARK,MO

8:05P MAIN CARD

5-MMA  170LBS 
ED CLINE-TULSA   VS  ALEX ROJAS-OKC     
  
6-KICKBOXING 150LBS  
JARRETT ROUSE-DEWEY  VS TBA
 
7-MMA 125LBS 
KATHINA "KILLSWITCH" CATRON-TAHLEQUAH   VS   AMBER POWELL-CLEVELAND

8-KICKBOXING HEAVYWEIGHTS
HAZE WILSON-TULSA   VS TONY MELTON-SHERMAN, TX

9-MMA 160LBS
JESSE CHAFFIN-TULSA    VS    DAVE MCAFEE-BIRMINGHAM,AL

10-BOXING 160LBS  
CODALE "CRUNCHTIME" FORD-FT GIBSON   VS   RAMON BARBER-PITTSBURGH,KS

11-MMA 185LBS  
ANDREW "THE SNIPER" TODHUNTER-CLAREMORE   VS    BRANDON GAINES-MIAMI

12-KICKBOXING ISKA WORLD MIDDLEWEIGHT CHAMPIONSHIP  
MARCIO "LOCOMOTIVE" NAVARRO-WICHITA   VS  THOMAS "THUNDERKICK" LONGACRE-TULSA 

13-MMA XFL WELTERWEIGHT CHAMPIONSHIP
LEVI "THE MARINE" AVERA-TULSA    VS   DYLAN "SAVAGE" SMITH-ENID 
  
14-MMA XFL 205LBS SUPERFIGHT
ANTHONY "RUMBLE" JOHNSON-MIAMI VS JAKE ROSHOLT-NEVADA

PLUS UFC HALL OF FAMER RANDY COUTURE!

270 Tickets to go www.hardrockcasinotulsa.com
Bill, XFL fighters always sell all their tickets no problem. Sorry you lost your fight,I was rootin for ya.
Lol @ XFL fighters always sell their tickets no problem , that's a good one . Yep I lost my fight but unlike all your paper champions I actually fought a good opponent . You retired undefeated Apollo ? Btw what 50 yr old man still calls himself by a corny nickname like Apollo ? Is that greek god or hair club for men .....
liquidsoul -

[IMG]http://i101.photobucket.com/albums/m69/apollosprincess/poster-small.jpg[/IMG]

http://i101.photobucket.com/albums/m69/apollosprincess/poster-small.jpg
This one!
Gonna be a great show!!!