I hate to generalize and bash a forum like this, but what the hell is up with the people who post at Sherdog? Ever since Team POTATO member Travis Lutter stepped up a weightclass on short notice to brutally KO the accomplished striker Marvin Eastman in a huge underdog upset, posters and even a staff writer at Sherdog have disrespected both athletes horribly by claiming the fight was "fake".
Here's what I'm talking about:
Sherdog idiots claim Eastman vs. Lutter was a work.
How on earth can any of the people saying that punch didn't land possibly maintain such a ridiculous worldview? Many people who were at the side of the cage at UFC 50 said that punch made an extremely loud noise and visibly hit Eastman on the nose. You can even HEAR the punch land on the PPV/DVD!
On top of that, anyone with a pair of functioning eyes should be able to see it connect. For those of you who're legally blind and/or Sherdog posters, look at this still: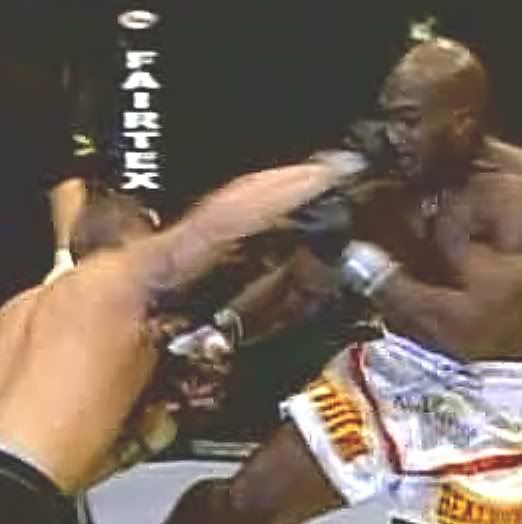 See it flattening Eastman's nose?
Even if the fight WERE a work, which it absolutely was not, how could Marvin possibly coordinate falling over in such a convincing way while putting his hands down and letting a massive right hand brush within a few hundredths of an inch of his face? Boy, wouldn't it be a coincidence if Lutter's corner told him to throw the exact same punch at the exact time he did without knowing that Eastman was going to take a dive and act like he was seriously hurt the first time he did it? He sure fooled the referee, his corner, Dana White, everyone in attendance AND the NSAC doctor with that performance! Get him in the movies!
My theory is that a lot of the people who visit Sherdog's forum are, shall we say, "younger" and "less educated" MMA fans. I think most of them can't take seeing anything unusual or unexpected in a fight, despite how many times that tends to happen in a sport like this one. Newsflash, guys: with those tiny MMA gloves and a Team POTATO fighter, brutal knockouts are always on the agenda. Get used to it.